Israel to Fund Foodtech Incubator in the Galilee
Israel's governmental innovation investment arm said it will allocate $28 million for the project
Update: Israel's Innovation Authority (IIA), the Israeli government's innovation investment arm, announced Wednesday its intention to establish a foodtech-focused incubator around Safed, a town in the northern Galilee region of Israel. The IIA said it intends to invest more than $28 million (NIS 100 million) over an eight-year period in the initiative. Companies selected to participate will receive financing of up to $1.4 million (NIS 5 million). The IIA operates 18 tech incubators in Israel.

A previous version of this article erroneously stated the incubator will be located in Safed itself.

For daily updates, subscribe to our newsletter by clicking here.

In April, the Israeli government announced it will allocate $27 million (NIS 95 million) to establish foodtech research and activity in Kiryat Shmona, a city located in Israel's north, near the Lebanese border. The plan is part of an economic development scheme, called Israel Initiative ii2020, that will see the establishment of seven dedicated tech hubs in areas of the country that are remote from Tel Aviv, the country's cultural and business capital. The initiative was spearheaded by Israeli venture capitalist and former lawmaker Erel Margalit, who is the founder and chairman of Jerusalem-based venture capital firm Jerusalem Venture Partners (JVP).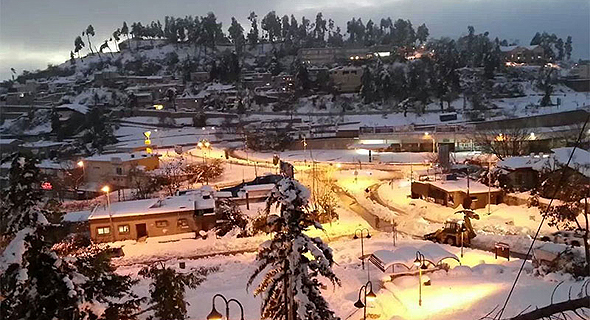 Safed. Photo: Safed Municipality

There are currently more than 250 foodtech startups operating in Israel, according to Start-Up Nation Central, a Tel Aviv-based nonprofit working to promote Israeli tech. The sector saw two major exits so far in 2018, with the recent acquisition of home water carbonator company SodaStream International Ltd. for $3.2 billion by PepsiCo Inc. and the May acquisition of flavor and fragrance company Frutarom Industries Ltd. by NYSE-listed Flavors & Fragrances Inc. (IFF) for $7.1 billion. A cash and stock deal, Frutarom's acquisition has since been finalized but depreciated in overall value.

Frutarom itself announced it was launching a food tech innovation lab in April.

Israeli food and beverage manufacturer Strauss Group, Inc. operates a foodtech accelerator, The Kitchen, in the central port city Ashdod. In August, The Kitchen announced that it was commissioned by Swiss flavor and fragrance company Givaudan SA to scout Israeli food technologies and startups for potential investments and acquisitions.