Opinion
Flipkart's Foothold Marks New Milestone in Tightening Israel-India Business Relations
On Tuesday, Indian e-commerce juggernaut Flipkart acquired Israeli retail analytics startup Upstream
The acquisition of Israeli retail analytics startup Upstream Commerce Inc. by Indian e-commerce juggernaut Flipkart Internet Private Ltd. announced Tuesday marks a milestone in the tightening relations between India and Israel. As the first acquisition of an Israeli product-focused startup by one of India's top tech players, it signals a possible wind change.

For daily updates, subscribe to our newsletter by clicking here.

Since their founding in the late 1940s, the two countries maintained stable, yet relatively cold, diplomatic relations, In recent years relations have gotten warmer. In July 2017, Indian Prime Minister Narendra Modi visited Israel, and in January this year, Israeli Prime Minister Benjamin Netanyahu reciprocated with a state visit to India. Both were accompanied by business delegations looking to further intensify trade.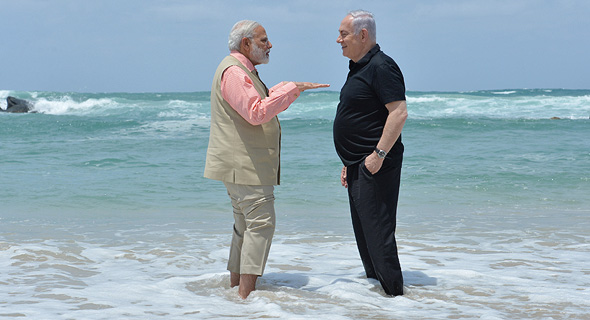 India's PM Modi meeting with Israeli PM Netanyahu in Israel. Photo: Kobi Gideon (GPO)

Netanyahu and Modi signed a series of collaboration treaties in various fields including tourism, transportation, cybersecurity, energy, and even film production, building on an already intensive arms trade.

India accounted for 49% of Israel's arms export between 2013 and 2017, making Israel the third largest supplier to India, according to the 2017 arms transfer report by the Stockholm International Peace Research Institute. In 2017 alone, $2 billion worth of missile system deals were signed between state-owned Israel Aerospace Industries (IAI) and India, amounting to nearly 22% of Israel's overall $9.2 billion in arms exports.

In April, Indian news outlet The Print reported that India lifted "restricted procurements" designations it has assigned to IAI and another Israeli defense contractor, Rafael Advanced Defense Systems Ltd., after the Indian Central Bureau of Investigation named both companies in a corruption investigation involving former Indian Defense Minister George Fernandes and Indian businessman Suresh Nanda in 2006. In June, the Hindustan Times reported, citing sources in the Indian and Israeli governments, that a $500 million missile deal between the Indian government and Rafael, previously reported as canceled, is nearing final approval.

Increased attention to non-defense related technologies coming from Israel, is joined by an uptick in tourism and the addition of air routes between the countries. Since 2014, the number of tourists coming to Israel from India has gone up by nearly 70% annually, from 34,600 to 58,000 in 2017, according to data released by Israel's Ministry of Tourism in March. Also in March, the first direct seven-hour flight between Delhi landed in Tel Aviv.

Since August 2017, two large Indian companies, Mumbai-headquartered information technology and consulting firm Tech Mahindra Ltd. and Kolkata-based real estate developer Ambuja Neotia Group, have reached out to Israeli startups with special incubation and collaboration programs, aiming to help them enter the Indian market.

With reported revenues of $3.07 billion for the fiscal year that ended in March 2017, Flipkart, acquired by Walmart in August, is considered India's largest e-commerce retailer. While small in scale, with an estimated value of between $40 million and $50 million, Upstream's acquisition carves a new pathway for the business ties between the two countries.

Following the acquisition, Upstream will continue to operate from Tel Aviv to develop pricing and product analytics services for online retailers. In a statement released Tuesday, Flipkart CEO Kalyan Krishnamurthy said Flipkart is "looking forward" to making Israel one of its "excellence centers." Many, if not most, of the multinationals tapping Israeli tech talent, set out on their journey in the country through smallish acquisitions.

Other Indian companies may follow.