Brief
Amazon Inaugurates New Tel Aviv Offices
The company's new offices span 25,000 square meters across 11 floors of the city's Azrieli Sarona tower, one of Israel's most expensive real estate projects
Amazon on Tuesday inaugurated its new offices in Tel Aviv, spanning 25,000 square meters across 11 floors of the city's Azrieli Sarona tower. The new offices will house the company's Alexa shopping team, the local Amazon Web Services operations, and its Annapurna Labs team, among others. The complex also includes a conference space dubbed Floor28.

The Azrieli Sarona office tower, which opened earlier this year, is one of the most expensive real estate projects in Israel, housing the local offices of multinationals including Facebook, Citibank, IronSource Ltd., and SimilarWeb Ltd.

Amazon had an on-the-ground presence in Israel since 2015, when it acquired Israel-based chip-designer Annapurna Labs.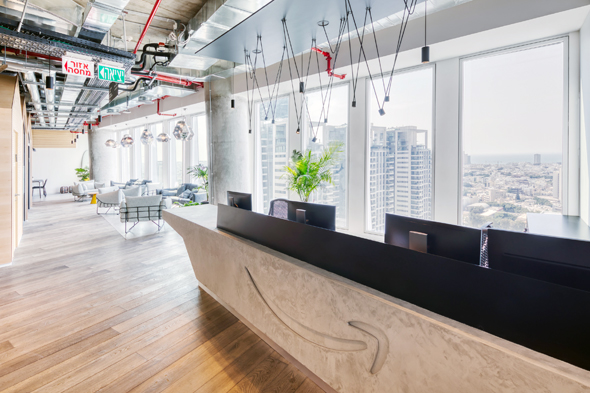 Amazon's Tel Aviv offices. Photo: Tomer Foltin