For Israel, New Statistics Raise Brain Drain Concerns
New data from the country's Central Bureau of Statistics shows that educated Israelis are increasingly prone to spending time abroad—and to staying there
More Israelis with academic degrees opt to live abroad. In 2017, 33,000 Israeli academic degree holders were staying for over three years abroad, compared to 26,000 in 2013, according to a report published Tuesday by Israel's government Central Bureau of Statistics. Israel's population currently stands at 8.9 million. Of those, almost 2.5 million are children under the age of 18, and around one million are 65 or older.

For daily updates, subscribe to our newsletter by clicking here.

One out of seven Israelis with STEM doctorate degrees lived abroad in 2017, according to the report, and the ratio is higher in specific fields: one out of five Israelis with a locally-obtained doctorate in computer science was living out of the country in 2017, and for those with doctorates in mathematics the ratio was nearly one out of every four (24%).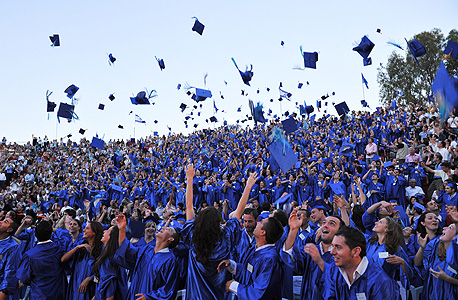 Graduation, The Interdisciplinary Center Herzliya. Photo: Yotam From

In 2017, 11% of all Israelis with a doctorate degree were spending over three years overseas. There were 1.7 more Israelis with a bachelor's degree in STEM out of the country compared to holders of degrees in humanities and social sciences. The ratio climbed to 3.2 for doctorate degrees.

Graduating from one of Israel's two top science-oriented academic institutions increased the likelihood of living abroad: 20.1% of the graduates of The Weizmann Institute of Science lived abroad in 2017, and so did 11% of the graduates of The Technion.

Likelihood of living abroad was higher for men than for women, for Israeli Jews compared to Arabs with an Israeli citizenship, and for people born out of the country.

While Israeli STEM degree holders opt more frequently to move overseas, but the country's universities are also churning them out at an increasing rate. According to data published Thursday by the Israeli Council for Higher Education, the 2017-2018 academic school year was the first year to see more students enrolled in an engineering bachelor degree than in a social studies bachelor degree. The number of students majoring in engineering, math or computer science bachelor degrees now makes over a quarter of all bachelor students in the country. In August, the council released data that showed that between 2013 and 2017 the number of students signing up for computer science and math degrees has gone up by 28%, from 10,900 to 13,900.

Israel's government tech investment arm, the Israel Innovation Authority, estimates that the local tech industry needs around 10,000 additional software professionals to support the local startup scene and the operation of research and development centers of multinationals with on-ground local presence. As a result, tech wages in the country are around 2.5 times the average local wage.