Brief
After Several Mishaps, Express Jerusalem-Tel Aviv Train Hits Another Roadblock
Currently operating as a partial route connecting Jerusalem with Ben Gurion International Airport, service was temporarily shut down Sunday due to technical malfunctions
A new express train connecting Jerusalem with Israel's Ben Gurion International Airport, 19 kilometers southeast of Tel Aviv, was temporarily shut down Sunday after it had been plagued by a series of technical problems. On Sunday morning, three scheduled trains were canceled on this route due to an infrastructure fault involving the tracks. In a statement, Israel Railways Ltd., which operates the line, said that the issue would be addressed and the service restored later that day. Last week, service on this route was interrupted after a water pipe exploded nearby, flooding the tracks.

The new route is part of an express train built to connect Jerusalem and Tel Aviv, first approved by the Israeli government in 2001 and scheduled to complete by 2008. The partial route began operating in pilot mode late last month, with trains scheduled twice every hour. Passengers are required to register up to 48 hours in advance in order to board the train.

The complete 57 kilometers-long route, intended to take just 28 minutes, currently has no official launch date. The only train route connecting Tel Aviv and Jerusalem is a 19th-century railway, which takes about 90 minutes to complete.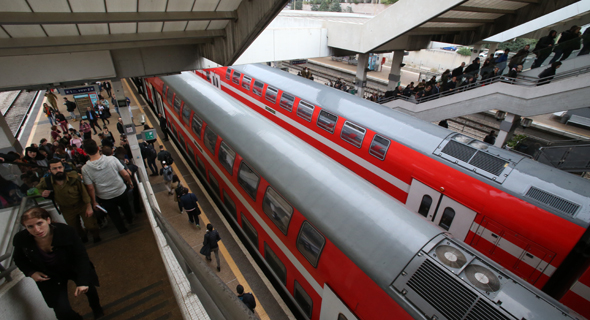 Israel Railways. Photo: Shaul Golan