The Biggest Trends Impacting the Retail Industry
From the rise in AI's clout to the growth in Asian markets, these six trends are shaping the retail industry
Over the last few years, we have heard about the disruption that is coming to the retail sector. In reality, it is already disrupted. The tools, strategies, and technologies required to be successful in the retail world are available. In this article, we discuss some of the biggest retail trends impacting the industry.

1. Customer experience is more important than ever.

Welcome to the experience economy. Traditionally, the primary measure of retail performance has been sales per square foot. Now, experience per square foot is becoming an equally important metric. Successful retailing in 2018 means digital and physical touchpoints working together seamlessly. Despite the notion of the demise of brick-and-mortar stores, physical retail isn't actually dead, but boring retail is, as noted by Steve Dennis on Forbes.

Nike's new five-story, 55,000 square foot store in New York City is like LEGOLAND for people who love sports. It features a mini indoor basketball court, a treadmill, a system that simulates runs in different locations, a small soccer enclosure, a shoe bar where shoppers can personalize a pair of Nike Air Force and coaches who put customers through drills to test out different pairs of shoes. It is as much a place to play as it is a place to shop. Nike is demonstrating that it understands how brick-and-mortar retail is changing in the age of e-commerce and also how to create a memorable customer experience.

Store closures in certain countries hit all-time highs in 2017, and we expect to see the same patterns in 2018. Often overlooked is the fact that many stores opened as well. By January 2019, 90% of all retail will still be done in physical stores. Iconic retail brands like Apple, Sephora, and Costco continue to succeed, despite relying mainly on brick-and-mortar stores. As a consequence, new classes of retailers are emerging. There are retailers who started online and are moving to physical brick-and-mortar and others are merging bricks and clicks.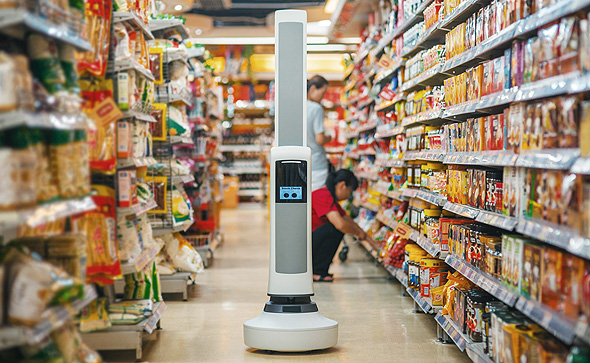 A robot at a supermarket (illustration). Photo: PR

2. Artificial intelligence will gain more clout.

In 2016, Gartner predicted that by 2020, 85% of customer interactions would be managed without human involvement. In 2018 we see AI adoption continuing to rise with chatbots taking the lead. Chatbots have become a common choice to manage customer service queries and to make intelligent purchase recommendations. We are also seeing the rise of AI-powered conversational interfaces and voice assistants. Retailers now have a significant amount of data to power AI and deliver personalized, customized and localized experiences to customers. AI will be applied across the entire retail product and service cycle, from manufacturing to post-sale customer service interactions. AI will allow retailers to influence purchases in real time and anticipate future purchases. In 2018, we are seeing new collaborations between retailers and technology companies

3. The rise of the conscious customer will continue.

Customers are demanding transparency as they take an increased interest in the ethical practices of the brands they buy. Many consumers today believe their purchase habits have an impact on the world. To win them over, businesses need to stand for a cause or a set of values and reflect a consistent message throughout their entire operation. A study from YouGov and the Global Poverty Project revealed that 74% of those surveyed would pay a higher cost for their clothes if there was a guarantee that workers were being paid fairly and working in safe conditions. A Nielsen report on global corporate sustainability indicates that, globally, 66% of consumers are willing to spend more on a product if it comes from a sustainable brand. Among millennials, 73% indicated a similar preference. Customers want the companies they support to practice sustainability, strong ethical behavior, and transparency.

4. The retail world we were promised is now here.

As more retailers adapt to the changing expectations of customers, we are finally seeing the new retail world evolve. This is the consequence of significant behavioral shifts over the last few years. Forrester anticipates this challenging new environment will "place harsh and unfamiliar demands on companies, requiring changes in how they develop, market, sell and deliver products and services." According to Forrester, newly empowered customers place elevated expectations on every interaction they have with brands.

New technologies have put customers in the driver's seat. Apps like Snapchat, WeChat, and WhatsApp express a reality in which everything happens in real time, and people want instant gratification. In a Salesforce.com report, 64% of consumers said they expect companies to respond and interact with them in real time. The need for speed will only increase as technology advances.

5. A tale of two hemispheres.

For a long time, companies in China were known for taking products and business models from the West and adapting them to their local markets. However, with the move to a consumption-driven economy, home-grown platform businesses are redefining the Asian landscape. China has developed a unique innovation ecosystem that has resulted in a revolutionary approach on a mass scale, and it is impacting both emerging and developed economies. China's innovative tech companies are dominating the local market and it may just be a matter of time before they themselves move West. Chinese conglomerate Alibaba Group has significantly reshaped the retail world.

In November 2017, we witnessed Alibaba's Singles' Day achieving record revenue of over $25 billion. Single's Day was much bigger than Black Friday and Cyber Monday combined. That year, Singles' Day sales represented 39% year-over-year growth with Alibaba processing 812 million orders within 24 hours and its payment service, Alipay, handling 1.5 billion transactions. Meanwhile, that year's Cyber Monday was the largest online shopping day in U.S. history, with a record $6.59 billion in online transactions.

It is projected that by 2030, the Chinese middle class will add 800 million to 1 billion new consumers and over 200 cities will have populations over 1 million. To put this into context, the OECD has projected that Europe would add 16 million consumers by 2030 and has only 35 cities with populations over a million today. By 2030, consumption in China is projected to be 2.5 times that of the U.S. Already today, more Chinese consumers use mobile phones to access the internet than in America, Brazil, and Indonesia combined. About half of China's online sales take place via mobile, compared to barely a third in the U.S.