Alexa, Please Vacuum Seal These Strawberries
Israel-based startup Silo swept Kickstarter with a promise for Alexa-activated food vacuum-sealing device
On World Food Day (October 16), foodtech company Silo Kitchen Inc. launched its food container system on Kickstarter, reaching its target of $80,000 in less than 24 hours. The one-touch vacuum-sealing system is designed to keep food fresh longer and reduce food waste.
For daily updates, subscribe to our newsletter by clicking here.
The vacuum machine and box ensemble can be used to store a range of perishable and non-perishable food items, from fresh produce to coffee beans. It includes Amazon's voice assistant, Alexa, which connects to a dedicated Silo app. Alexa identifies the product placed inside Silo's boxes, tells users when its time to throw food away, and even updates a user's shopping list when items near expiry.
Silo's founder and CEO, Tal Lapidot, says in a promotional videro he came up with the idea after he grew tired of continuously throwing out boxes of strawberries that had spoiled. According to the Food and Agriculture Organization of the United Nations, roughly one-third of food produced for human consumption gets thrown out or wasted, which amount to about 1.3 billion tonnes.
Silo's project has surpassed $300,000 and entered Kickstarter's Favorite Projects category. Because of its success, several "stretch goals" have been unlocked, such as building a smart-scale into the device and offering multiple color options for its boxes.
Founded in 2016, Israel-based Silo previously raised a Seed round from Jerusalem-based equity crowdfunding company OurCrowd Ltd.
Silo expects its first deliveries to rollout in the summer of 2019.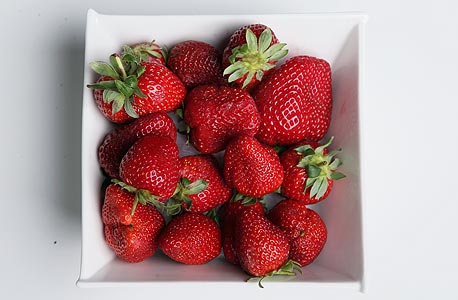 Strawberries. Photo: Avigail Uzi