Israel Is Unprepared for E-Commerce Revolution, Says Government Watchdog
In a new report, the Israeli state comptroller criticized the country's postal service and customs authority for failing to meet the necessary challenges, as Israel's online retail market grows by 25% a year
Israel is unprepared for the massive changes and challenges the e-commerce industry is bringing to the market and most relevant government entities have failed to prepare for the changes, says Israeli government watchdog.

For daily updates, subscribe to our newsletter by clicking here.

Between 2014 and 2016, the online retail market in Israel grew by 25% a year and was estimated at approximately $1.8 billion (about NIS 7 billion), which amounts to around 6% of the total retail market in the country, according to an annual report published Monday by Israel's state comptroller.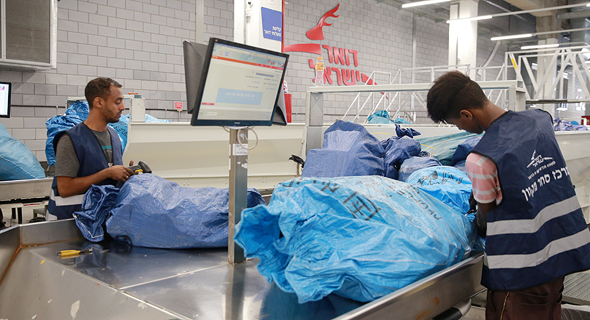 Israel Postal Company's processing center in Modi'in. Photo: Orel Cohen

By 2020, the scope of online retail in the country is expected to double, amounting to 12% of the country's retail market, the report's authors write. The average Israeli made 36 online purchases from overseas during 2017, according to the report.

Also mentioned in the report were inefficiencies in the operations of government-owned Israel Postal Company, which operates the country's national postal service, and the fact that its new processing center in Modi'in-Maccabim-Re'ut, a town in central Israel, has no customs office. This means packages held by customs have to be sent to the old processing center in Tel Aviv, some 40 kilometers away, about an hour's drive in Israel's congested road system.