INSPIRE
Booking CEO Glenn Fogel to Deliver Keynote at Calcalist's Digital and Mobile Conference
Other key speakers include Ehud Schneerson, former commander of Unit 8200, the Israeli military's NSA equivalent, and Assaf Rappaport, general manager of Microsoft Israel
On Monday, Calcalist will hold its eighth annual digital and mobile conference INSPIRE Digital@Mobile in Tel Aviv in collaboration with Bank Hapoalim, Israel's largest bank. This year, the conference will focus on the interface between the physical and the digital worlds, and on the ways in which technology is changing human interactions, social fabrics, and the human psyche. Executives from the local and global mobile, communications, and tech industries, entrepreneurs, venture capitalists, and other key figures will take part in the event.

For daily updates, subscribe to our newsletter by clicking here.

Glenn Fogel, CEO of Booking Holdings Inc. will be the keynote speaker at the event. Booking's subsidiaries include online travel agencies Booking.com, Priceline.com LLC, and KAYAK Software Corp. In 2017, Booking subsidiaries processed 673 million overnight stays and their gross bookings amounted to $81.2 billion, according to company statements. Traded on Nasdaq since 1999, the company reported an adjusted EBITDA of $4.9 billion in 2017, up 18% compared to the year before.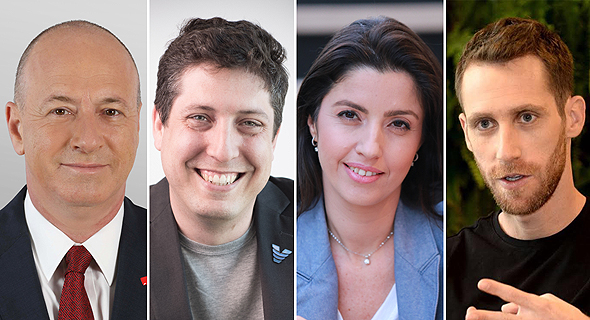 Left to right: Golan Scherman, David Golan, Hila Goldman-Aslan, and Assaf Rappaport

Before stepping into the position of Booking's CEO in 2017, Fogel spent 19 years in various executive positions within the company and led its mergers, acquisitions, and strategic partnership policy. In 2013, he led the $1.8 billion acquisition of travel price comparison website KAYAK and that of restaurant booking company OpenTable Inc. for $2.6 billion in 2014. Earlier this year, as CEO, Fogel led a $500 million investment in Beijing-based ride-hailing company Beijing Xiaoju Technology Co. Ltd.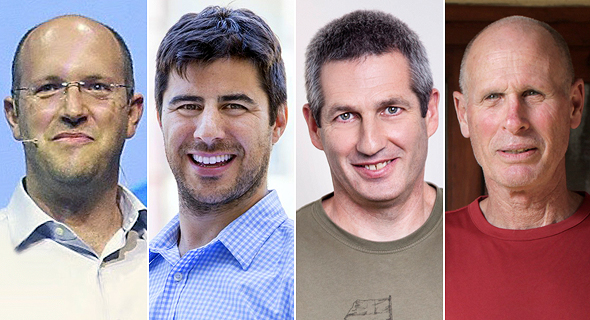 Left to right: Yariv Bash, Liad Agmon, Daniel Cohen, and Ofer Ariely

Other key speakers include Ehud Schneerson, former commander of Unit 8200, the Israeli military's NSA equivalent, and Assaf Rappaport, general manager of Microsoft Israel.

Left to right: Jose Geng, Lior Simon, Itamar Friedman, and Ehud Schneerson

The opening event of the conference will feature speakers including Bank Hapoalim's Head of Innovation Golan Scherman, the bank's Executive Vice President of Application Development Ronen Yochpaz, and Mobile Project Manager Avishag Shmuel; Chairman of government agency Israel Export and International Cooperation Institute (IEI) Adiv Baruch; Partner and Head of the Blockchain and Smart Contracts Division at Israel-based law firm Shibolet & Co. Saul Adereth; and Head of Digital and Innovation at Israel-based drugstore chain Super-Pharm Michael Mitrani.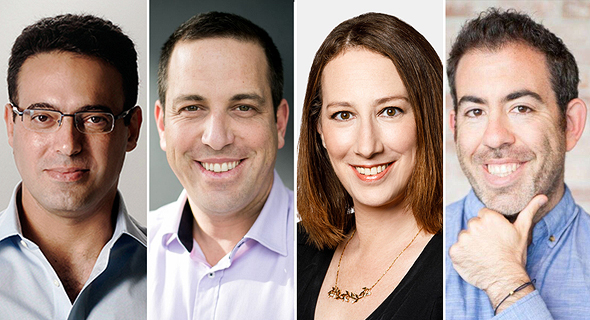 Left to right: Gur Arie Bittan, Assaf Sagy, Einat Weidberg, and Yaniv Rivlin
The conference will end in a talk between Calcalist reporter Ouriel Daskal and Israeli comedian Tom Aharon whose satirical monologues have become viral on social media.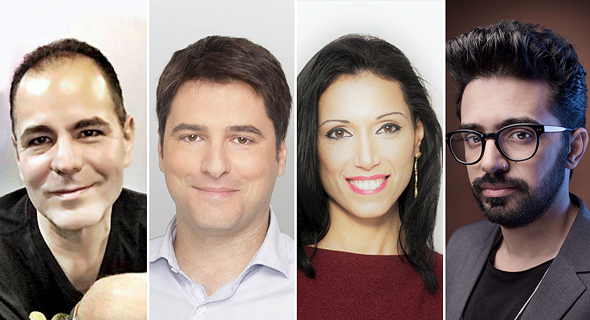 Left to right: Zohar Levkovitz, Michael Mitrani, Liraz Margalit, and Tom Aharon
The finals of Calcalist's promising startup competition will also be held at the event. Winners, to be selected by a panel of judges, will get a chance to pitch their startups at the Mobile World Congress (MWC) in Barcelona in February.
Judges include Yossi Vinitski, Bank Hapoalim's head of tech; Michael Admon, head of tech at IEI; Einat Weidberg, a partner and head of tech and venture capital at Shibolet; Adam Fisher, a partner at the Israeli office of venture capital firm Bessemer Venture Partners; Yair Snir, a vice president and managing director of EMEA at Dell EMC's venture capital arm Dell Technologies Capital; Natalie Refuah, a partner at Israel-based late-stage venture capital fund Viola Growth; Lior Simon, head of Israel at Arbor Ventures; Dror Nahumi, a general partner at San Francisco-based venture capital firm Norwest Venture Partners; Michael Mitrani, head of digital and innovation at Israel-based drugstore chain Super-Pharm; and Ron Shvili, chief technology officer at telecommunication company Cellcom Israel Ltd.
Additional speakers at the event include the following:
Itamar Friedman, head of Alibaba's Israel lab
Liad Agmon, CEO of website personalization company Dynamic yield Ltd.
Efi Dahan, senior director, and general manager, of Eastern Europe, Middle East, and Africa at PayPal
Daniel Cohen, a general partner at Israeli early-stage venture fund Viola Ventures
Jose Geng, regional manager of Israel, Cyprus, and Greece at Chinese telecommunications company Huawei Technologies Co. Ltd.
Gur Arie Bittan, CEO of Israeli 3D imaging company Mantis Vision Ltd.
Zohar Levkovitz, Israeli entrepreneur, investor and co-founder of marketing technology company Amobee Inc., acquired in 2012 by Singapore-based telecommunications company Singapore Telecommunications Limited (Singtel)
Assaf Sagy, head of Snap Inc.'s commercial activity in Israel
Yaniv Rivlin, general manager of Los Angeles-headquartered electric scooter-sharing company Bird Rides Inc.
Yariv Bash, co-founder of Tel Aviv-based drone delivery startup Flytrex Aviation Ltd.
David Golan, founder of stroke detection startup Viz.ai Inc.
Ofer Ariely, co-founder of predictive patient care startup Medial EarlySign
Hila Goldman-Aslan, co-founder and CEO of Israel-based medical analytics company DiA Imaging Analysis Ltd.
Liraz Margalit, head of digital behavioral research at e-commerce company ClickTale Ltd.
Ohad Zaidenberg, senior cyber intelligence analyst at Tel Aviv-based cybersecurity firm ClearSky Cyber Security Ltd.