Intel, Mobileye, Volkswagen Team on Israeli Self-Driving Taxi Venture
The project, destined to roll out in early 2019, is supported by the Israeli government
Jerusalem-headquartered Mobileye, an Intel Company, is teaming up with Volkswagen Group and Israeli car importer and distributor Champion Motors Ltd. to launch a self-driving taxi service in Israel in early 2019, the companies announced Monday.

For daily updates, subscribe to our newsletter by clicking here.

Volkswagen will provide electric vehicles for the venture, which Mobileye will outfit with its level-4 autonomous vehicle kit—hardware, safety software, driving policy and map-related data. Champion Motors will operate the control center and the fleet itself. All three companies will collaborate on the venture's proffered services, content, and tools used.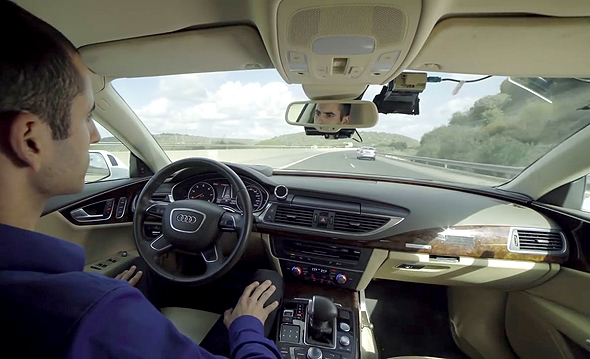 Driverless car. Photo: Mobileye

The companies intend to roll out the first vehicles in early 2019 and scale it up to a commercialized venture with hundreds of vehicles by 2022, according to the announcement. Both Mobileye co-founder and CEO Amnon Shashua and Volkswagen stated in 2017 their intention to reach serial production of autonomous cars by 2021.

Many other automotive companies have made their intention to develop autonomous taxis known. Among them is Daimler AG, which set up partnerships with Bosch and Uber for the purpose; Ford Motors; General Motors, which partnered with Lyft; and the Renault-Nissan-Mitsubishi Alliance, which also recently partnered with Didi Chuxing to explore the option in China.

The Israeli venture is intended to serve as a global beta site, Mobileye, Volkswagen, and Champion Motors said. Several automotive companies have been testing autonomous vehicles in Israel since 2017. Mobileye, which became Intel's global center for activity in the area of autonomous cars after it was acquired by the chipmaker for $15.3 billion in 2017, is the only company allowed to test its cars on roads that are not specifically designated for such tests in Israel.

While the venture is still "subject to approval by the responsible authorities and bodies," the companies said, the Israeli government has signed off on the project and committed to supporting it in three main areas: legal and regulatory support, infrastructure and traffic data, and access to infrastructure, as needed.

The companies have not provided details on where in Israel the cars will be deployed first, which roads they will use, or what sort of precautions will be taken in terms of passengers and other drivers.