Israeli Defense Contractor Elbit Announces Contract with EU Maritime Safety Agency
The company will provide European Union countries with maritime unmanned aircraft system patrol services
Nasdaq-listed Elbit Systems Ltd. has received a framework contract to provide maritime unmanned aircraft system (UAS) patrol services to countries in the European Union, the company announced Thursday. The services will be carried out in partnership with Portuguese engineering and product development research center CEiiA.

For daily updates, subscribe to our newsletter by clicking here.

Headquartered in Haifa, Israel and founded in 1966, Elbit Systems and its subsidiaries operate in a variety of military-oriented and technological domains, including communications, land and naval systems, intelligence surveillance and aerospace. Elbit employs more than 12,500 people worldwide, with 10,000 based in Israel.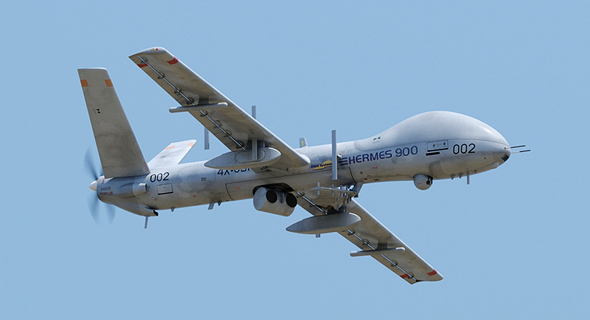 The Hermes 900 UAS. Photo: Elbit Systems Ltd.
According to company statements, in its full capacity, the EU contract is valued at €59 million (approximately $68 million). Elbit Systems will lease and operate its Hermes 900 Maritime Patrol UAS, which will include maritime radar, satellite communication, and an automatic identification system receiver.
Elad Aharonson, general manager of Elbit Systems' ISTAR Division, stated that countries in Europe, Asia Pacific, and Latin America have already signed contracts for the Hermes 900 system.