Interview
Yuri Milner Sets His Sights (Much) Higher
Since 2015, venture capitalist Yuri Milner has invested $200 million in space-related projects. He traces the new found passion to his childhood
In 1961, Soviet cosmonaut Yuri Gagarin became the first human to journey to space. Russian-Israeli billionaire Yuri Milner, born the same year in Moscow to a doctor and a university professor, was named after the first man to orbit Earth. His given name has a lot to do with his latest obsession with space exploration, according to the venture capitalist. "From a very early age, I have been interested in science and space," Milner said in an interview with Calcalist in late October, held as he was visiting Israel to attend an Israeli Innovation Summit.

For daily updates, subscribe to our newsletter by clicking here.

When together with his wife he ventured into philanthropy, it was a natural step to pursue this early passion, he said.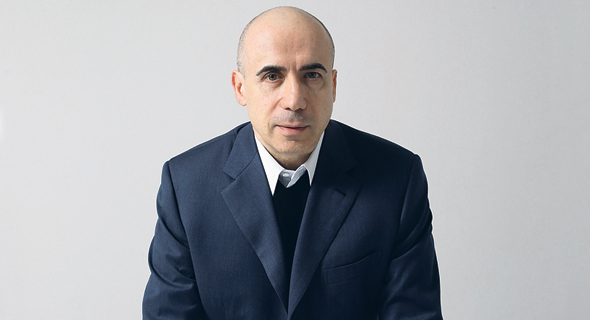 Yuri Milner. Photo: Amit Sha'al

Since 2015, Milner has invested $200 million in various space-related projects as part of the Yuri and Julia Milner scientific fund, the Breakthrough Initiative; Listen is a $100 million program focused on finding signs of extraterrestrial life and civilizations; Message is a $1 million competition to compose or design a message that can be sent on behalf of humanity to civilizations on other planets; Starshot is a $100 million engineering project aiming to create a proof of concept unmanned spacecraft capable of reaching Alpha Centauri, the nearest neighboring star system, within a generation.

"I think it is only appropriate that we, as a civilization, devote at least some resources to try and ask the biggest existential questions; for example, are we alone in the universe?"

Milner is not the only billionaire businessman that has caught the new Space Race bug. Elon Musk, the founder of space transportation services provider company SpaceX, is a strong proponent of colonizing Mars. Amazon CEO Jeff Bezos founded aerospace company Blue Origin LLC in 2000 with the explicit goal of making space travel affordable to the private market.

He is aware of objections to some of his extraterrestrial plans but believes options should at least be explored. "If we came to the conclusion that certain technologies are feasible, then, of course, we will have to engage in a significant public debate on whether we should be doing this," Milner said. "This is not the kind of project that you could do in your garage; it is a massive undertaking that cannot be done without some sort of international consensus around it."

As a young man, Milner initially undertook an academic route but dropped out of his doctoral studies in particle physics in Moscow in the late 1980s. He went on to become one of the world's leading businessmen, with a $100 million mansion in Los Altos, California.

"To truly contribute to the study of fundamental physics, you have to be among the top 50 scientists in the world. When it comes to successful business people, there are thousands and thousands. Statistically speaking, it is easier," he said.

Following a short stint as a grey market personal computer vendor, Milner enrolled in 1990 at the Wharton School of the University of Pennsylvania, where he completed his MBA. "I was the last Soviet person and the first Russian to attend Wharton," he said, speaking at a panel in the Israeli summit he attended.

He made his initial fortune through Moscow-based internet company Netbridzh Services Ltd. (Netbridge), which he founded in 2000. The outfit later merged with London-listed Mail.Ru Group OOO to become one of Russia's most popular online services. Through Mail.Ru and his venture capital firm DST Global Investments Ltd., Milner was an early investor in Facebook, Twitter, Airbnb, Spotify, Alibaba, and Xiaomi.

In 2012, Milner partnered with Mark Zuckerberg and Sergey Brin to found the Breakthrough Prize, a $3 million cash prize awarded to scientists and researchers in the fields of life sciences, fundamental physics, and mathematics.

Last week, Milner and the Breakthrough Initiative announced a $7 million doctorate scholarship program for outstanding research students in the fields of fundamental physics, mathematics and life sciences at three Israeli universities—the Technion Israel Institute of Technology, Tel Aviv University and the Hebrew University of Jerusalem.

In late 2017, Milner was at the center of controversy as leaked documents, known as the Paradise Papers, revealed DST Global's investments in Facebook and Twitter were, in part, funded by the entities affiliated with the Russian government. Milner declined to comment on the subject in the interview.

Commenting on the firm's operations, Milner described how the appearance of Vision Fund style mega funds and a flood of available capital push venture outfits to evolve. Investors, according to Milner, now need to focus on creating differentiation.

"10 years ago we spent most of our time finding new opportunities. In the past few years, we have spent a very significant amount of time and effort helping our existing portfolio companies grow," he said.