Amdocs Was Up on Nasdaq Following Fourth Quarter Reports
The billing software company closed nearly 4% up on Nasdaq on Friday after reporting record revenues for the quarter
Billing company Amdocs Ltd. has closed 3.81% up on Nasdaq on Friday following the publication of its fourth-quarter reports for fiscal year 2018. The company reported record quarterly revenues of $1 billion for the fourth quarter ending September 30, up 2.3% year-over-year. For the entire year, the company reported an annual revenue of $3.9 billion compared to $3.8 billion in 2017.
For daily updates, subscribe to our newsletter by clicking here.
Founded in Israel in 1982 as Aurec Information & Directory Systems Ltd. and headquartered in Missouri, Amdocs provides customer experience software and services to communications and media companies. The company has clients in 85 countries and employs 25,000 people according to Pitchbook data.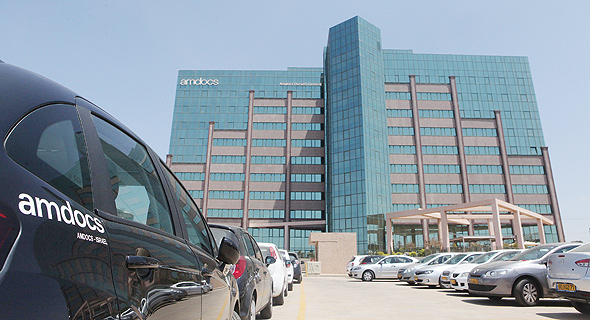 Amdocs. Photo: Orel Cohen

In August, Amdocs CEO and president Eli Gelman announced he would be stepping down, and was replaced last month by Shuky Sheffer, a senior vice president in charge of the company's global business group.

The company's GAAP net income in 2018 was $354.4 million, down from $436.8 million in 2017. For the fourth quarter of 2018, Amdocs reported a GAAP net income of $44.3 million, down from $107.2 million in the fourth quarter of 2017, due to a non-recurring charge incurred to settle a previously disclosed legal dispute.