High Ambition, Low in Funding Startup Plans to Build Competitively Priced Flying Car
Israel-based NFT plans to start testing a drone model of the car by October 2019
Israel-based startup NFT Inc. is developing a fully electric vertical takeoff and landing vehicle. Simply put, the company is building a flying car. NFT hopes to get an initial prototype in the air as early as next year, according to co-founder Guy Kaplinsky.

For daily updates, subscribe to our newsletter by clicking here.

NFT plans a fully electric vehicle the size of a big SUV. According to Kaplinsky, the vehicle will be offered in both electric and hybrid versions and will be priced competitively against regular cars.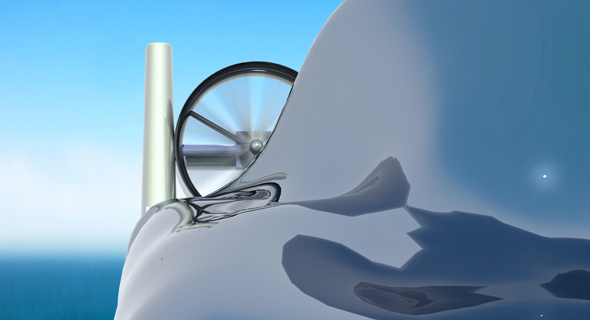 Illustration of NFT's flying car. Photo: PR

The company has already completed the initial design of the yet-to-be-named car, and is working on building their demonstrator currently, Kaplinsky said in an interview with Calcalist on Tuesday. Incorporated in 2018, the company employs 15 people in Israel and has a team of five working in Silicon Valley.

Tests of a prototype drone are expected to start October 2019, Kaplinsky said. Alluding to FAA regulations, the co-founder explained that the demonstration flights expected to take-off in the third quarter of next year will not have human passengers.

NFT is designing the motors and autonomous capabilities of the car and is already in talks with a European manufacturer to build it, Kaplinski said. Citing a non-disclosure agreement, he declined to identify the manufacturer.

Unlike competitors, Kaplinski said, NFT does not plan to build a drivable plane, but rather a car with wings. NFT is in the automotive sector, not the aerospace sector, Kaplinsky said.

Kaplinsky said he invested $2 million in the company, and the company currently embarking on a $15 million funding round.

He co-founded NFT with his wife Maki Kaplinsky, the company's CEO.

"To get to more advanced funding rounds we first need to get to technological and regulatory milestones," he said.