Taboola Partners on News Offering With Ridesharing Company Via
The content recommendation company will offer its content on Via's app. Earlier this year, Taboola announced content-related partnerships with Chinese mobile device manufacturers Vivo and ZTE
Content discovery company Taboola.com Ltd. has partnered with ridesharing company Via Transportation inc. to offer its personalized news content service through Via's app, the two announced Thursday. The service will provide content from Taboola's network of publishers as well as from Via itself.

For daily updates, subscribe to our newsletter by clicking here.

Founded in Tel Aviv in 2007, New York-headquartered Taboola is one of the leading companies in its domain, publishing links with titles like "you won't believe what these child stars look like today!" on thousands of publisher websites and taking its cut from the revenues generated. Its main rival is another well-known Israeli company, Outbrain Inc.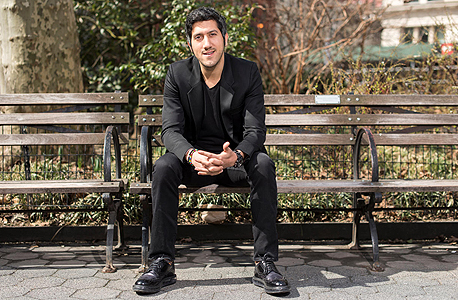 Adam Singolda. Photo: David Pexton

In the past year and a half, Taboola has made moves to branch beyond its initial claim to fame, launching a news feed product in May 2017. In March, the company announced its intention to hire 400 new employees to support expansion, including new hires for its content review team. In a recent interview with American business magazine Fast Company, Taboola founder and CEO Adam Singolda said the content editorial team numbers 50 people.

In April, the company announced a partnership with Chinese mobile device manufacturer ZTE Corporation, the world's ninth largest mobile manufacturer, to offer a Taboola-powered personalized content news aggregator on its devices, in a service similar to that of Apple News, Blinkfeed, and Flipboard. According to Fast Company, the reach of the partnership has been limited so far, with trials rolled out in Mexico and Germany.

In October, Taboola announced a similar partnership with Chinese smartphone manufacturer Vivo Communication Technology Co. Ltd., which will see content from Taboola's network of Asian publishers integrated into Vivo's smartphones.

According to Thursday's announcement, the service will be offered in New York, one of Via's main markets, later this year, before being expanded to other locations. Founded in 2012, Via mainly offers is service main U.S. cities, but has a joint European venture called ViaVan with Daimler AG's Mercedes-Benz Vans.

"I've long believed that today's generation does not want to spend time looking for things, and the ability to discover things that are relevant to you is now an innate part of every user experience," said Singolda in a statement. "There is value to bringing that 'moment of next'."