A Tel Aviv Rooftop With a View to New York
A panel of venture capitalists assembled to discuss The Israeli Hop—the bi-continental existence many Israeli startups opt to go for
The rooftop of SOSA TLV, a posh innovation center located at a squat building at the lower east end of the city, offers some of the best views in town. From here, you can see Tel Aviv spreading, right up to the cluster of high-rises to the west. Most of these towers were built in a rush of real estate entrepreneurship and rising rent prices over the last decade. Sunsets here are particularly nice.

For daily updates, subscribe to our newsletter by clicking here.

In a spillover from the city's center, some buildings in this industrial neighborhood were transformed in recent years into elegant offices as startups began moving in, lured by lower rent prices and a certain decaying brutalism which is very much in style now. Boutique shops now hide around corners, and even one or two decent cafés have sprung up among the garages and motor shops.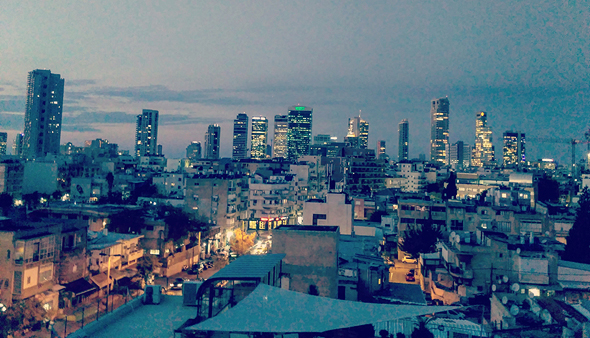 The view from SOSA TLV. Photo: Orr Hirschauge
A combination of an investor network, corporate innovation hub, and an office space, SOSA was set up in this building by a group of homegrown angel investors and venture firms. It takes up the top two floors. The tenant who used to take the second floor, a carpentry workshop, moved out around two years ago.
On a Wednesday evening earlier this month, a crowd assembled on SOSA's wood-decked third floor. A panel of venture capitalists is about to discuss The Israeli Hop—the bi-continental existence many Israeli startups opt to go for, running operations both from Israel and the U.S. The panel is hosted by Leumitech, a subsidiary of Israeli Bank Leumi focused on serving tech companies. and moderated by its CEO, Yifat Oron.
Around 250 people subscribed to the event.
Participating in the panel are Aaron Rosenson, a general partner at Tel Aviv based Aleph Venture Capital; Daniel Goldstein, a partner at Innovation Endeavors; Israeli-born Eran Gilad, a managing partner at Scopus Ventures, an early-stage venture capital firm based in Los Angeles, California, and Eyal Bino, once an aspiring basketball player and now a partner at Iconyc Labs, an accelerator for Israeli startups operating in New York City.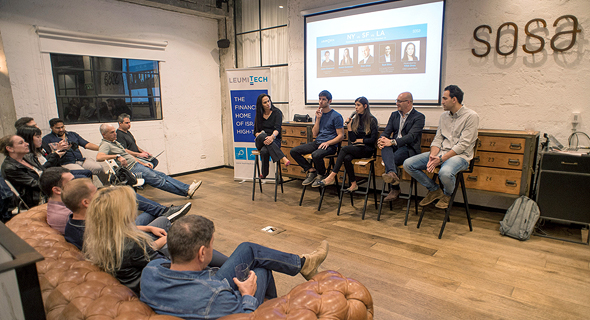 Left to right: Yifat Oron, Aaron Rosenson, Daniel Goldstein, Eran Gilad and Eyal Bino. Yuval Chen
Originally from Chicago, Rosenson moved to Israel around three years ago. He joined the Israeli venture fund after four years as an associate at Insight Venture Partners in New York, where he sourced and helped execute investments in Docker, HelloFresh, and Moat.
Israeli-born Goldstein joined Innovation Endeavors three years ago. Set up by former Google CEO Eric Schmidt, the venture fund manages $1 billion in assets and has already invested around $350 million in Israeli companies. Goldstein now heads the firm's value creation team.
The presence of Chinese and European investors here is on the rise, but as a default, most Israeli startups still target the U.S. market. CEOs of young companies often relocate alone to form a beachhead, sometimes joined by a marketing executive. In some cases these companies will then insist on identifying as American, even if actual on-ground presence in the U.S. is made up of just two people.
Seeking to get closer to potential American clients, partners, investors, and ultimately acquirers, Israeli startups used to relocate to Silicon Valley, but now they are increasingly going for New York City. Other destinations, including Los Angeles, were also added to the map in recent years.
According to Israeli market research company IVC Research Center Ltd. there are currently over 1,500 Israeli companies with on-ground operations in the U.S. New York plays home to over 650 companies, California to 430 and Massachusetts to 125.
Many of the startup founders relocating to the U.S. choose to join stateside Israeli launchpads, such as Bino's Iconyc Labs.
Another launchpad is Tel Aviv's SOSA spacious twin in New York City. The latter was named as a partner of the New York City Economic Development Corporation on an initiative aiming to beef up the cybersecurity industry in town in October. Israeli venture capital firm Jerusalem Venture Partners (JVP) was also named partner in the initiative, and is also setting up its own launchpad in New York.
Early-stage venture firm UpWest Labs does this in Silicon Valley, and Fusion LA, a relative newcomer, does the same in Los Angeles.
Israeli founders need these launchpads to adjust to the U.S. market and hone their networking and pitching skills, Gilad said at the panel.
"How do I get in? how do I handshake? how do I pitch? most importantly, when do I start listening and stop talking? You need these two to three months," he said speaking to an audience of Israeli entrepreneurs.
According to Gilad, Israeli startup founders need to learn to connect with American investors and customers on an emotional level.
"I know how amazing you are, but I am Israeli. Others may need some adjustments," he said, advising Israeli founders to join such launchpads. "You're not going to start talking about the NFL, but it's going to readjust your positioning," he added.
In fact, long-standing close ties with the U.S. have made their mark on Israel's innovation hub, and many techies here have adopted American sports. Local tech firms and venture firms screen the Super Bowl, turning it into an all-nighter given the time differences.
The time difference itself is a major issue. The 10-hours time difference from the West Coast and the 15-hour-long flights to San Francisco are known as one of the plagues of the local tech hub. As local folklore has it, some Israeli executives do the round trip to Palo Alto just to attend board meetings for years on end. People here working with the West Coast know that many times they'll need to have work-related phone calls regularly at night.
Shlomo Kramer, the founder of Israeli information security companies Check Point Software Technologies Ltd. and Imperva Inc., once told me he thinks the 10-hours time-difference is one of the major factors holding Israeli tech firms back.
Things are slightly easier with the East Coast.
"Ultimately you have to do what makes your business into a success, but the time difference is a killer for the West Coast," said Rosenson.
The difference between 7 hours vs. 10 hours "is a really big deal" he added.
"If you're doing Pacific Coast then you're going to have your nights and weekend calls and that's going to impact your ability to be with your kids."
--------------------------------------------------------------------------------------------------
--------------------------------------------------------------------------------------------------
Following is a partial, lightly edited transcription of the nearly hour-long panel.
Moderator: Yifat Oron, CEO of Leumitech, a subsidiary of Israeli Bank Leumi
Panelists:
• Aaron Rosenson, a general partner at Tel Aviv based Aleph Venture Capital
• Daniel Goldstein, a partner at Innovation Endeavors
• Eran Gilad, a managing partner at Scopus Ventures, an early-stage venture capital firm based in Los Angeles, California
• Eyal Bino, co-founder and partner at Iconyc Labs, an accelerator for Israeli startups operating in New York City
Oron (Leumitech): I joined Bank Leumi to start a very exciting startup which we call Leumitech. The startup is actually a bank that knows how to talk to you guys. We're banking many companies in the tech world. We're working with companies all the way room their Seed stage to forever and ever when they're old and rich. similar to some of the people here in the panel, we're working in Israel, we have an office in New York, in Palo Alto, and in London and we are doing a little bit of work in China. We like being global—we believe in being global. We have a very exciting panel today because one, all these people are very eminent in their own fields and it would be very interesting to see how they represent their geographies. Let me start by having each and every one of the panelists tell us a bit about yourself, your activity, and what's unique about your interests in terms of what you're looking for when you invest.
Rosenson (Aleph): We're a venture capital fund based in Tel Aviv. We invest in people trying to build big lasting companies out of Israel. I'm originally from Chicago. Made Aliyah around two-three years ago. We're looking for companies that are big and lasting, with hundreds of millions in revenues. Some of our investments include companies like WeWork, Lemonade, Bringg, Commonsense Robotics.
Goldstein (Innovation Endeavors): I'm a partner at Innovation Endeavors. I joined the company five years ago and I lead our value creation team. The value creation team is a dedicated team inside of Innovation Endeavors where we help our companies scale through partnerships, sales, and investments. We take our role very seriously so in the last three years we conducted over 2000 introductions. We generated over a $100 million in value for our portfolio companies as a result of that. Innovation Endeavors, for those of you who don't know, is an early stage and expansion stage VC firm in Silicon Valley, New York, and Tel Aviv. We just raised a third fund which was $333 million. Overall we are managing a billion dollars. Since 2010 we invested in more than 150 companies. Some of the most renowned companies are Uber, SoFi, Datorama, Dynamic Yield, Yotpo and many more.
We see three accelerating trends that we are excited about. The first one is data: today there are more sensors, more apps; basically today we can measure data that we were never able to measure before. The second trend that we are seeing is computer power: if you think about machine learning, AI, edge computing - all of these basically (mean) you have much more accurate insights. The third is automation. Think about robotics, 3D printing, CRISPRS, all of these are basically creating opportunities for computers to interact and improve our lives. We like to look at all these three trends, what we call "Super Evolution", invest in companies that are applying this approach and technologies at their core.
Gilad (Scopus Ventures): My name is Eran Gilad. I'm working at Scopus Ventures. We're an early stage fund focusing on American companies, but of course, as an Israeli, my tendency is to bring in Israeli companies because it fits our strategic approach towards founders and founding teams as we mainly focus on building non-organic growth, marketing sales, and customer success. Helping Israeli companies do the right thing and start building a proper business (requires) four kinds of attributes: access to money, access to customers—we have access to Fortune 1,000 companies, access to partners, and access to knowledge. We have HR on staff to help basically hire the right people to do the job. We'll invest between half a million dollars to a million dollars, in each one of the companies in the first check and about 3 million dollars throughout the company's lifecycle.
Bino (Iconyc Labs): Thanks all for coming. I'm Eyal. I'm the co-founder and partner at Iconyc Labs. Iconyc is based in New York. Our mission is to help Israeli companies build their presence in the U.S. market, via New York from day one. We source hundreds of companies, so I see about 500-600 companies a year. Typically these are pre-seed and seed stage companies. Looking to help companies migrate to New York early on, we provide them with capital, a small investment, a space in New York City, and a ton of help with getting to a first customer, usually first U.S. customer.
We're helping Israeli companies looking to build products and great technologies, but need to have on the American side to help them. We have 35 portfolio companies including companies like Swift Shift, Securithings, and Botique.ai. In addition.
Oron (Leumitech): When I'm looking at all four of you, you are each very different, so we have an American who came to Israel to work with an Israeli fund; we have an Israeli working for a global fund; Israeli working for a (U.S.-based firm), and we have an Israeli investing in Israeli companies out of New York. Let's start with what each of you is thinking about the specific territory your investing in, in terms of why is it interesting, or what are the relative strengths of that region.
Bino (Iconyc Labs): I'll talk about New York. New York has been through a renaissance over the last five to seven years. It's been traditionally a fintech hub - banks, insurance companies, etc. I think traditionally Israeli startups and investors have been looking at New York as a stopover on the way to the valley, thinking "I'll meet a couple of customers and I'll go to the valley, this is where the money is at."
The financial downturn in 2008 was the best thing that ever happened to New York. A lot of people basically said when I'm done with business school I'm going to a bank to work 20 hours a day as an associate. They are not doing that anymore. It actually went to provide a lot of interesting opportunities coming from entrepreneurs who started building companies: WeWork, General Assembly, MongoDB, that became really interesting companies. That brought a lot of investments, a lot of interest from valley based VCs and from entrepreneurs. Fast forward, in New York today there are about 250 VCs, about 70 or 80 percent of them investing in seed stage, meaning 2 to 3 million dollar rounds, looking for tech teams where they can provide value.
If you look at Israeli companies—7 hours vs. 10 hours is much more interesting for Israeli companies. when you wake up in the morning and start working at 8 it's 3 pm vs. 6 pm—it makes a whole lot of difference. You can talk to your tech team in Israel
There's a big community of Israelis in New York and Israelis, especially when they are abroad, like to help each other out. It's a big value and they help other entrepreneurs and mentor them and tell them where to go, who to meet with etc. I'm a big believer in New York. I believe that New York is going to blow up in the next five years and there is going to be more and more Israeli startups going there.
Goldstein (Innovation Endeavors): We're a global fund. When we think about Israeli companies we think about companies facing the U.S. market. We like the hybrid model where we see the entrepreneurs building companies in Israel, keeping the R&D here, sales and management moving to where the market is which is usually in the U.S. We love it. Since 2010 we invested over $350 million in Israel, in Israeli-based companies, in over 60 deals. What we are focusing on is basically companies that are coming up with a big vision, willing to make the move. We want to help them and support them there. We have offices in New York and in Palo Alto to support that.
Rosenson (Aleph): We're investing in businesses that have some sort of presence in Israel, usually 2 to 12 million checks initially, all of them tend to have a presence in the U.S. as well. I think it's been a really good trend right now for Israeli companies. Most of the locked up value in Israeli startups right now, needless to say, there are a few outliers, is mostly in enterprise software businesses. The nice thing about software is that there are a lot of best practices of how you sell this stuff with inside sales reps and sales development reps, field sales, customer success.
In Wix, you have kind of a business school of digital marketing that's kind of spread back town and kind of spread a lot of practices around there. We're seeing kind of a lot of these best practices that have emerged: software has become easier to build and sell, with services like AWS with multi-tenancy, and with more non-technical businesses being used to buy this stuff over the phone, so that's a great trend for Israel in general. Due to the best practices that are emerging, and crystalizing around enterprise software, Israel's intellectual property from a software perspective is becoming more and more exportable.
Right now, there are five to eight billion of dollars of solid enterprise value locked up in private software companies in Israel arriving at the public market. That would manifest itself in more and more exits.
Israel struggles in thinking about being service oriented and being able to tell a story and communicate well and empathize very well with the customer. I think that's an area where Israel hasn't yet as caught up as maybe some other hubs.
In Israel, you do have those great leaders who build great organizations and have a way of inspiring others and percolating best practices further, so I think it is a great time to be building businesses in Israel.
Gilad (Scopus Ventures): As an American fund we don't really care where innovation sparks. I'd prefer to identify opportunities within the Israeli market.
Post world war the military colleges in the U.S. started looking at how markets behave, or how countries behave, post-war where things are very global, and there's a lot of uncertainty and complexity and ambiguity. This is basically the market that we live in. It's very easy to set up a business, but very challenging to scale it. In such a world you have to have two out of three core elements; The first one is technology superiority--Israelis are amazing at that; the second is operational excellence—basically how you can create an organization that can scale fast, and respond very fast to any changes; the third is customer intimacy. You want to be able to own at least two to become a market leader and I think that this is the greatest gap that we identify with Israeli entrepreneurs.
Oron (Leumitech): Would any of you invest in a company that is still not in the U.S.? Do you think Israeli companies can be legitimate without a U.S. practice, or with a small U.S. practice? And when you get into a company and invest do you try and move its center of gravity to the U.S.?
Goldstein (Innovation Endeavors): Our primary focus is companies that are targeting the U.S. market. Therefore we expect the companies we invest in, to either move there or operate there. when it comes to Israel, the companies that worked best for us so far are those in which the CEO, sales team, move to the U.S., or start-off, or hired in the U.S., while R&D stays in Israel.
We have invested in companies that haven't been in the U.S. before but planned the move as part of their roadmap. To your question: we kind of make sure that they are there.
Rosenson (Aleph): We invest in companies that don't have any presence in Israel. We invested last year in a company called Platterz, which is an online marketplace for corporate catering. Their only presence was in New York. They expanded to six or seven other cities and we helped them launch an R&D center in Israel, but they're a couple of Israelis doing it outside of Israel. They launched their presence in Israel because they are building a big enterprise vision for how a software managed corporate culture in food should look.
When people want research and development excellence they can open up Israel as another place to acquire more engineers. I think for other roles it's less critical. Outside of research and development, it is hard to say (an Israeli presence) is mission critical, aside from the general benefit of everyone in an early stage startup just being together and close so they can align around vision and direction. There's nothing like being in an office and rubbing shoulders with management and co-workers and getting that alignment at an early stage and even growth stage business.
Gilad (Scopus Ventures). I'll just sum it up by saying that if you decide to build a company and spend the best years of your life and you don't have an intention to be close to your customers – go to work at Apple or Facebook. I mean, there are some cases where a company raises a lot of money, bringing in a general manager that eventually will evolve to become the CEO (as it starts growing), and sometimes it's ok to take a person that you trust and that can walk the path, and make the journey with you successfully. There are a lot of people who may actually be successful at doing it remotely, but the majority will not make it.
Bino (Iconyc Labs): At Iconyc we bring in CEOs of great companies, just for the founders get to know them, what they did that worked, and they did that didn't. Jonah Goodhart, CEO of Moat, came to our space and talked to our fellow entrepreneurs. He said he took a year to build this company and for a whole year, he went every single day to 8 potential clients in New York. All it was is basically presenting the product, asking them if they would pay for it, and if not, what would they pay for, and what are the features they want to see. At the end of the day, the company was extremely profitable and sold for over $800 million.
Israeli founders are challenged here. Most of the entrepreneurs that I speak with try to guess what the customer knows. I think they really need that. I have a venture partner whose name is Brock Weatherup. He's an amazing entrepreneur. He started working with us and he invested in a few of our companies. He said 'listen, I see the trend where Israelis build a Mercedes and then they put it on the highway and then realize they need a Subaru and they take out all the features. It takes them more time, they are running out of cash, and then they say this is really good and try to get more funding.' Long story short: know your customers. If you target the U.S. market, you can only know them in the U.S.
Oron (Leumitech): This is the part where I get a little less nice. There are a lot of great Israeli companies that were founded in Israel and most of them have headquarters in Israel, and some went public and are doing very well. Let's say that I actually agree with you, why would these guys who are looking to be number one within their sector in America, why do they need an investor who is not an all American, gel in the hair, Harvard graduate that sits in San Francisco?
Goldstein (Innovation Endeavors): If you're an Israeli company looking to do things in the U.S. market, I think it is important that you choose an investor that has a presence there, and that will also be able to give you access to their network, access to their market knowledge.
We like to work very closely with our companies. If you think about my role at the company, I basically help our companies grow. In the last three years, we thought about what would move the needle for our entrepreneurs. What they really need is access: access to potential customers as early as possible. These customers will basically be able to validate your product-market-fit, give you feedback, and secure deals later on. In the last three years, we focused first of all on creating our own network with Fortune 500 executives, and once we created that we decided to create opportunities for our founders to then connect with these executives. To do that we have been working with some of the most influential companies in the world. We work very closely with Starbucks, Best Buy, Estee Lauder, BMW. We're working to help them with their innovation strategy so we'll be able to connect them to our companies whenever they will be relevant.
It is important to choose an investor that can give you access but I also think that for Israeli entrepreneurs, it's important that to work with someone who understands your culture and your challenges. Two out of five partners at the firm are Israelis, so we are obviously working with the eco-system, and understand the key challenges.
Bino (Iconyc Labs): It's a matter of stage. Early on, I think it's great to get funded by Israeli angels, and VCs. Israeli investors are different from Americans. Americans know very early in the process to say no. They will not really say no, but they will not be able to answer an email. When you go to a meeting with an Israeli investor it's like you are either a genius or an idiot – there's nothing in the middle. As you grow the company and you move upscale and you go to A round and B round and C round you can also see the evolution of the great Israeli companies, The best go to some of the best VCs, like those here on the panel, and then go on to raise funds from U.S.-based VCs like Insight Ventures, Kleiner Perkins, and Andreessen Horowitz.
Gilad (Scopus Ventures): The reality is that we are an American fund, and so obviously, to be honest, we're always going through the same dilemma when it comes to Israelis. You meet someone which is a Harvard Business School graduate and he or she is pitching you, and it's amazing. They know how to pitch, I mean they learn public speaking at a very young age, and they know how to communicate well. Small talk is not something that is awkward.
That's why we like having accelerators like Iconyc Labs. It is like a staging phase, it helps refine you. You're not going to speak about the NFL or stuff like that, right? but it's going to readjust your positioning, your being. It collects you into 'now, I'm a CEO of a company, not an American CEO, but the CEO of a company working in America.' How do I get in? how do I handshake? how do I pitch? and most importantly when do I start listening and stop talking? You need that, you need these two to three months. I know how amazing you are, but I am an Israeli. Others may require some adjustments. Some people need some sort of an adjustment period, also on the personal level, to know how to create that emotional connection with investors, and with customers.
Rosenson (Aleph): Bill Gurley once said that 90% of VCs detract value from startups, 9% are break even and 1% add value. We don't want to assume that we're in the 1%—that would be probably kind of brazen, so we try for like the 9% of break even. Ultimately what entrepreneurs want is follow-up funding, recruiting role players and executives, strategic advice, and psychological help when needed. We try to invest in all those things. We have five engineers on staff who built up a software system that allows us to automatically crawl giant lists of international corporations and understand who is visiting Israel, who do we have connections to, how do we make connections between our companies and those companies. We recruited a couple of dozen employees for our portfolio companies this year. And we're all spending time going to meetings to recruiting executives for our companies and helping them get follow-up funding with hopefully the best VCs in the U.S. or in Europe.
Ultimately, we are trying to provide as much value as anyone else out there and trying. People would not be taking VCs on their boards if they didn't need to take their money.
Oron (Leumitech): We have some entrepreneurs here who are in Israel right now and are considering moving some of the activity to the U.S. If you can each tell us, and obviously it depends on the sector, what's unique to New York as opposed to L.A. Why would you go to one place vs. the another?
Rosenson (Aleph): The one thing I will say is that when someone the difference of 7 hours vs. 10 hours is a really big deal. 10 hours makes any call really difficult. So you all already probably take a big hit on your family life in all honesty in the short term, hopefully not in the long term, by doing the startup lifestyle. And if you're doing Pacific Coast then you're going to have your nights and weekend calls and that's going to impact your ability to be with your kids. That being said, a startup is the worse thing to do anything less than a 100%, so ultimately you have to do what makes your business into a success, but the time difference is a killer for the west coast.
Goldstein (Innovation Endeavors): I've been working for the last five years with Silicon Valley-based teams, so practically any day has been basically taken with calls. It's definitely a topic for consideration. Obviously, Silicon Valley is home to many tech giants and if you're looking to target these companies as your partners, as your customers, your investors, your acquirers then maybe you should be next to them.
Gilad (Scopus Ventures): I was a CEO of an Israeli company in New York, and the CEO of an American company in L.A. As mentioned here, and rightfully so, when you decide to become a CEO of a startup, it pretty much states that you are insane – a little bit. In my first time as CEO, I raised series C round. We were and between Series B and C, my wife said: 'I'm done: I'm not doing New York anymore. I miss my family, I don't like that lifestyle of being 10 out of 12 months a year in a house.'
If you reverse engineer the process and you have a husband or wife with kind of parenthood in mind and you think about how much time it would take for your company to exit, which is about five years plus, and you decide that you want to close the deal, that means that your family is going to move and is going to be for five years out of Israel.
If you think like that, you have to think about your family and what would make a living environment that makes sense for them, like a Jewish Israeli community, great temperatures, wonderful lifestyle. You have to think about your family first and think about the long term, and then go back and find where the base is. It's going to be hard in terms of talking with the engineers but, but think about your wife, husband, kids, and your customers. Everything else is secondary. Forget about yourself. You're not going to sleep much. These are like my two cents.