With a $1.1 Billion Valuation, TripActions Aims for a Prime Spot in the Travel Industry
The corporate travel startup closed a $154 million series C earlier this month
After selling early on their first company, team collaboration startup StreamOnce Inc., the founders of corporate travel startup TripActions Inc. have bigger plans for their second venture. On the heels of a $154 million series C round led by Andreessen Horowitz that valued the company at $1.1 billion, the founders now aim to create a high-revenue market leader, CEO Ilan Twig said in an interview with Calcalist Monday.

For daily updates, subscribe to our newsletter by clicking here.

Twig and Ariel Cohen, the Israeli-born founders, sold StreamOnce in 2013 to Jive Software for $15 million, after having raised $1.5 million. With Palo Alto, California-based TripAction, founded in 2015, they have already raised $236 million.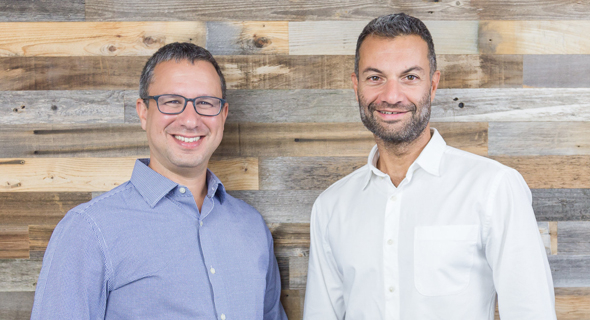 TripActions founders Ariel Cohen (left) and Ilan Twig. Photo: PR

StreamOnce was a financial success, but this time the two are aiming for a longer commitment, Cohen said. TripActions offers a travel booking and management service for companies, designed to help business travelers book hotels, flights, and other related services at a discounted price. Once they raised their $51 million series B in March, he explained, they realized they had a unique opportunity in terms of market share and pushed ahead, raising their series C earlier this month.

Some of the company's main investors have been with Twig and Cohen since their first company, such as Oren Zeev of Zeev Ventures LLC, who led the company's first two rounds and is now a company board member. TripActions' rapid growth stems from a close fit to market needs, Zeev told Calcalist.

Dov Frances, founder of venture firm SGVC, is also among TripAction's early backers. In an interview with Calcalist, Frances said he likes the fact that the founders are trying to disrupt an industry in which they are outsiders.

According to the Statista database, the global business travel market contributed $1.23 trillion to the global economy in 2017. But the solutions that exist in the market are outdated and performed using obsolete systems, Cohen said.

"A CEO will always receive good service from a travel agency, but that agency cannot provide the same level of service to everyone," Cohen explained the rationale behind TripActions. "Our artificial intelligence-based system allows us to provide everyone with the same service, without requiring a human travel agent to monitor the process."