New Coworking Sites Popping Up in Jerusalem and Haifa
Urban Place will open a new space in a historic building in Jerusalem, and Regus will open a compound in downtown Haifa
Two coworking companies are expected to open new locations outside of the Tel Aviv metropolitan area. Tel Aviv-based Urban Place plans to open its third branch in Israel and second outside of Tel Aviv, at the central bus station in Jerusalem, a spokesman for the company said. IWG PLC's Regus is also expected to open a second coworking space in downtown Haifa, a spokeswoman for the company said.

For daily updates, subscribe to our newsletter by clicking here.

Israel's coworking market is rapidly growing.

In 2014, WeWork, Regus, and locally-based Mindspace Ltd., then the main players on the market, offered less than 16,000 square meters of office space combined in Israel. By 2016, the three had leases for roughly 43,000 square meters of local offices. In 2018, WeWork and Regus alone had more than 60,000 square meters. By then, no less than 32 new competitors have joined the market. By May 2018, the number of local coworking spaces stood at 197, 71 of which are located in Tel Aviv. Labs, a coworking company operating in Tel Aviv, reached 100% occupancy in three months, according to Spacing, a company comparing coworking spaces and offices in Israel.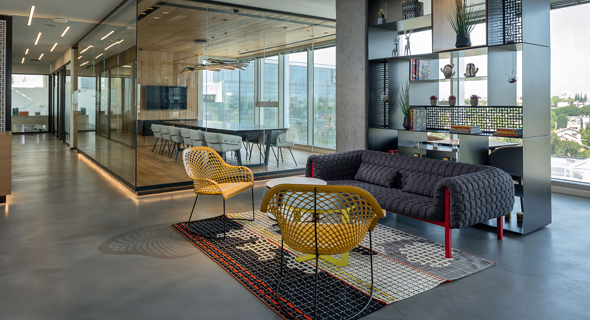 Regus space. Photo: Sharon Tzarfati

The offices of Urban Place in Jerusalem will be located in a historic building which served as the central station of Jerusalem until the opening of the new station. The space covers 2,000 square meters and will include a gym, games room, beauty center, synagogue, meeting spaces, and an auditorium. Rental rates for use in the open space will start at NIS 550 a month.

The new Regus complex in Haifa will be located on the sixth floor of an office building covering an area of ​​2,000 square meters. The complex will offer 65 private offices, 187 joint workspaces, 3 conference rooms, and administrative services. The starting price for a workstation will be NIS 1,410 per month.

This is Regus' second complex in Haifa and 20th in Israel. The company has over 3000 offices in 120 countries globally, according to the company's website, according to a company spokesperson.