An Ambitious Interview With Compass Co-Founder Ori Allon
The company's executive chairman says Compass is the biggest brand name in U.S. real estate
Ori Allon, co-founder and executive chairman of New York-based real estate company Compass Inc., is unfaltering when he says his company is the biggest brand name in U.S. real estate. Sure, he has competitors, he concedes. Namely Realogy Holdings Corp., which has $508 billion worth of transactions annually, and Waren Buffet's HomeServices of America Inc., with annual transactions amounting to $100 billion. Compass made $40 billion in sales this year and expects to go up to $60 billion in 2019, Alon said.

"These two don't do what we do," he explained in an interview with Calcalist.

"We are like hardware and software combined. And anyway, I think we will surpass both in two years."

For daily updates, subscribe to our newsletter by clicking here.

According to Allon, 2018 had been a year of unprecedented growth for the real estate technology firm. Compass, he said, doubled its size and beat its forecasts by 70%. Alon also reports gaining a 30% market share in San Francisco.

"We've attained a critical mass of a 30% market share in San Francisco. At this point, things move on their own. When you are big enough everyone wants to join you: " he said.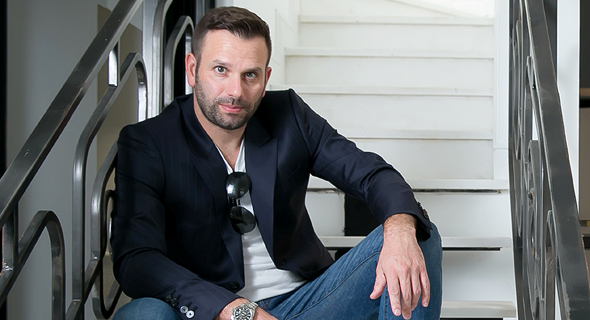 Compass co-founder and executive chairman Ori Allon. Photo: Orel Cohen

A 2018 $1 billion investment, famous backers, and a series of acquisitions the company made give weight to Allon's rosy forecasts. Compass has reached a $4.4 million valuation this year, double from 2017. It is backed by Softbank's Vision Fund, the most visible venture firm operating today. Vision Fund has led two funding rounds in Compass: A $450 million round in December 2017, and an additional $400 million round in September.

Softbank's dominant CEO Masayoshi Son, according to Allon, shares some of the company's values and vision.

"I like to think big, and Masayoshi Son knows how to think very big. I felt we had good chemistry," he said.

Incorporated as Urban Compass Inc., Compass was founded in 2012 by Alon and CEO Robert Reffkin. It operates an online platform for buying, selling, and renting real estate. Compass operates in cities across the U.S. including New York City, San Francisco, Los Angeles, San Diego, Chicago, Boston, Seattle, Washington, D.C., Dallas, Philadelphia, and Miami.

Allon's plans are to make Compass into a single global brand, like Uber, Airbnb, Amazon, and Google.

"By 2020 we want to have a 20% market share in the largest cities in the U.S.," he said. After that, they will take Compass to Canada, and across the ocean, first to London, Paris, Moscow, and Sydney. "A truly global company is something I would be proud of."

According to Allon, the company's offering of several services, traditionally offered separately, sets Compass apart. The platform collect data from numerous sources and provides comprehensive information about real estate, including sale history, price fluctuations, and neighborhood specs. It also connects landlords and renters, buyers and sellers, charging a 6% brokerage fee. Why? "Because our economic models price apartments in the most accurate manner," Allon said.

"Our approach is that you should be able to monitor your real estate just like you would stocks."

Allon's ambitions go beyond the current offering of the platform. He envisions a service encompassing house design, moving, house checks, and a hub for local businesses. His example: A local restaurant can give a free dinner to a new neighbor. "Everyone wins," he said.

In July, it Compass announced it acquired Paragon Real Estate Group, a San Francisco-based brokerage firm for an undisclosed amount.

In August, it announced it acquired San Francisco-based luxury real estate company Pacific Union International Inc. Pacific Union was ranked fifth largest real estate broker in the U.S. according to sales volume with over $14 billion in closed deals during 2017, according to a ranking by Colorado-based consulting firm Real Trends.

"We buy those who understand that it is not worthwhile to compete with us," he said.

Allon is also unequivocal about the real strategic value of these deals: more data, better insights.

"Acquisitions allow us access to more data on real estate trends, apartment prices, and differences between neighborhoods. When I know about a closed deal, how much the agent asked for originally, and how long it took to sell, it influences the entire economic model. Every additional piece of information makes our pricing better."

Compass has spent a fortune buying up the competition, but Alon insists the company is profitable in half the cities where it is active.

"If we decided not to invest in expansion, we would become profitable instantaneously," he said.