Teva's Generic EpiPen Now Available in the U.S. in Limited Numbers
In August, the Israel-headquartered drugmaker won approval to market the first generic EpiPen auto-injectors in the U.S.
On Tuesday, Teva Pharmaceutical Industries Ltd. announced its generic EpiPen, approved by the U.S. Food and Drug Administration in August, is now available in the U.S. in limited quantities. The first approved generic version of Mylan NV's EpiPen auto-injectors sold by Teva is a 0.3 milligrams version at a wholesale acquisition cost of $300, the same price as Mylan's product.

For daily updates, subscribe to our newsletter by clicking here.

A new supply of the product, as well as the release of Teva's generic 0.15 mg auto-injectors, is scheduled for 2019, the company said.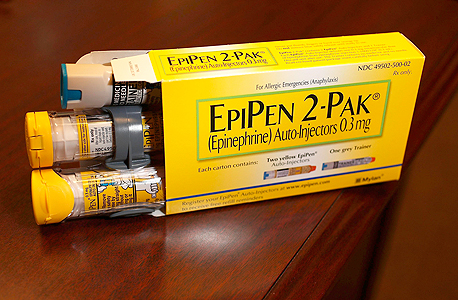 Mylan's EpiPen. Photo: AFP
Epinephrine is a very inexpensive hormone used to treat anaphylaxis, a severe allergic reaction to food or insect stings that can be fatal if not treated immediately. Mylan's EpiPen is unique in the market due to its delivery system, which calibrates the dosage very precisely. Mylan has faced criticism regarding its hike of the drug's price since it acquired the EpiPen from Merck KGaA in 2007, and also for its struggle to keep up with demand in recent months, which resulted in a supply shortage.
The announcement failed to make a significant impact on Teva's stock price on NYSE.