An Associate of Slain Saudi Journalist Khashoggi Sues Spyware Company NSO
The Saudi dissident alleges that spyware by the Israeli surveillance company had been used to track his communications with Khashoggi, and was instrumental in planning the latter's killing
An associate of slain Saudi journalist Jamal Khashoggi is suing Israeli digital surveillance company NSO Group in an Israeli court over the latter's alleged role in Khashoggi's death. In his lawsuit, filed on Sunday to the Tel Aviv Magistrate Court, Canada-based Saudi dissident Omar Abdulaziz alleges that NSO was involved in spying on his mobile phone and his communications with Khashoggi.

For daily updates, subscribe to our newsletter by clicking here.

The New York Times first reported about the lawsuit Sunday.

According to the court documents reviewed by Calcalist, Abdulaziz is asking for $161,000 (NIS 600,000) and for an injunction that will prevent NSO from selling its spyware to Saudi Arabia and other regimes known to violate human rights. The suit alleges that information obtained by spying on Abdulaziz's phone had significantly contributed to the decision to eliminate Khashoggi.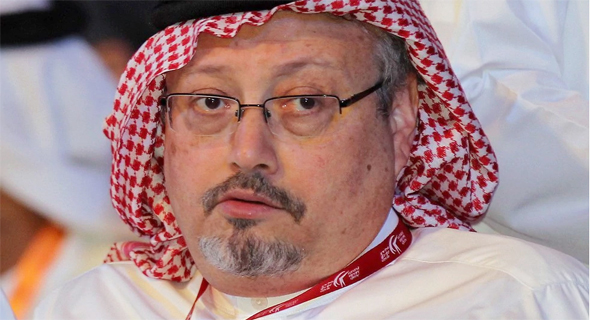 Jamal Khashoggi. Photo: EPA

In November, American whistleblower Edward Snowden had alleged that NSO played a role in Khashoggi's death, citing information by the University of Toronto's Citizen Lab, a digital and human rights research group. Snowden made the accusations while speaking via video at an event in Tel Aviv.

Abdulaziz has been living in Canada since 2009, where he became a prominent critic of the Saudi regime. He and Khashoggi met in 2017, and have since collaborated in their political activity. According to the suit, during June and July of this year, the two worked on a joint campaign designed to mobilize a large number of Twitter users who oppose the Saudi regime, in an attempt to counter the propaganda activity of pro-Saudi Twitter bots. Abdulaziz alleges that it was this planned activity, which Saudi operatives discovered through spying on his and Khashoggi's communications, that led to the decision to eliminate the journalist.

Founded in 2010 and headquartered in central Israel, NSO develops trojan horse spyware for mobile phones and other devices, which the company says it sells exclusively to governments and law enforcement agencies. Called Pegasus, the spyware gives operators access to users' calls and messages as well as remote control of the mobile device on which it is installed, through a seemingly benign text message. Abdulaziz alleges that his phone had been compromised in June, when he opened a message that seemed to be sent by delivery company DHL, informing him of a scheduled delivery.
NSO founders Omri Lavie (left) and Shalev Hulio. Photo: Bar Cohen

According to a September report by Citizen Lab, Pegasus spyware has been detected in 45 countries, including in Israel, the U.S., U.K., India, Singapore, France, and Canada. In 2017, Citizens Lab published a report saying that Pegasus had been used to spy on dozens of lawyers, journalists, and human rights advocates in Mexico. The discovery sparked a political scandal and helped launch a criminal investigation. Citizens Lab also detected Pegasus activity in Bahrain, the UAE, and Saudi Arabia.

Replying to Calcalist's request for a comment, a representative of NSO called the lawsuit "preposterous" and said it is devoid of evidence. NSO added that it is active in complete adherence to Israeli defense export laws and under the supervision of Israel's security apparatus.