Israeli Government Signed Off on Sale of Spyware Allegedly Related to Khashoggi's Death, Report Says
The Washington Post's journalist David Ignatius writes that by allowing the sale of local cyber technologies, Israel made an ally in Saudi Arabia
The Israeli government authorized the sale of a cyber espionage tool to Saudi Arabia in order to build up a powerful Arab ally, the Washington Post reported on Friday. The spyware, a mobile phone-hacking trojan horse developed by Israeli company NSO Group, allegedly went on to play a role in the killing of Saudi journalist Jamal Khashoggi.

For daily updates, subscribe to our newsletter by clicking here.

Last week, a spokesman for NSO called the lawsuit "preposterous" and said it is devoid of evidence. NSO added that it is active in complete adherence to Israeli defense export laws and under the supervision of Israel's security apparatus.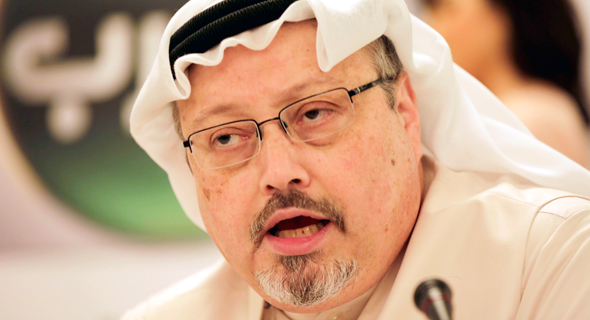 Slain Saudi journalist Jamal Khashoggi. Photo: Hasan Jamali

In his article, Washington Post journalist David Ignatius cites several sources saying that Saudi officials had been shopping for Israeli cyber technologies—which they perceived as superior—for some time, in what Ignatius calls "one of the most intriguing intelligence alliances in the history of the Middle East."

According to Ignatius, by allowing the sale of local cyber technologies, Israel gained an ally against mutual enemy Iran, as well as its own information channel into the kingdom. Saudi Arabia eventually arranged to buy NSO's Pegasus spyware in a deal facilitated by NSO's Luxembourg-based affiliate, Q Cyber Technologies, the report said.

Last week, Omar Abdulaziz, a Canada-based Saudi dissident and associate of Khashoggi, filed a suit in Israel against NSO Group, claiming its software was used to spy on his mobile phone and his communications with Khashoggi. According to the court documents reviewed by Calcalist, Abdulaziz is asking for $161,000 (NIS 600,000) and for an injunction that will prevent NSO from selling its spyware to Saudi Arabia and other regimes known to violate human rights. The suit alleges that information obtained by spying on Abdulaziz's phone had significantly contributed to the decision to eliminate Khashoggi.

This was not the first time a link was made between NSO, the Saudis, and Khashoggi. On October 24, Bill Marczak, a researcher at University of Toronto's Citizen Lab, a digital and human rights research group that has been researching NSO Group, appeared on CNN together with Abdulaziz. Marczak said that Citizen Lab had found evidence that Abdulaziz had been targeted with NSO's spyware.

This information was reiterated by American whistleblower Edward Snowden in November, as he was speaking via video at an event in Tel Aviv.

According to a September report by Citizen Lab, NSO's spyware has been detected in 45 countries, including in Saudi Arabia, the UAE, Egypt, Jordan, Lebanon, Qatar, and Oman.

In Israel, the export of defense-related technologies is subject to approval by the Defense Ministry's Defense Export Control Agency. Due to the nature of its technology, it follows that NSO has received government approval before selling its spyware to foreign governments.

In recent years, Netanyahu has worked to paint Iran as the ultimate threat to Israel's security, along the way stressing the warming ties between Israel and other Arab countries who have an enemy in Iran. Away from the public eye, ties between the United Arab Emirates and Israel have been on the up and up, with Iran, again, as a common enemy. In November, Israel's national anthem was played during the Abu Dhabi Grand Slam Judo competition, the first time the anthem was played publicly in an official event on the Arabian Peninsula.