Mind the Data
The Key to AI Military and Civil Applications Is Data Governance, Says Israeli Military Data Expert
Lt. Col. Nurit Cohen Inger, head of data at the Israeli military's Computer Service Directorate, spoke Tuesday at Calcalist's annual Mind the Data conference in Tel Aviv
When imagining the battlefields of the future, artificial intelligence, sensors, and data processing will play a major part, Lt. Col. Nurit Cohen Inger, head of data at the Israeli military's Computer Service Directorate said.

For daily updates, subscribe to our newsletter by clicking here.

Cohen Inger spoke Tuesday at Calcalist's annual Mind the Data conference in Tel Aviv. The conference is held in collaboration with Israel's Bank Leumi and accounting firm KPMG.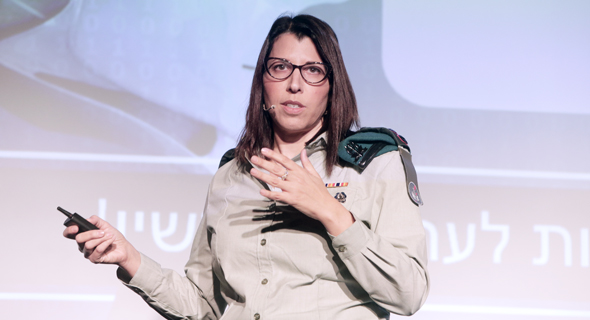 Lt. Col. Nurit Cohen Inger. Photo: Zvika Tishler

Cohen Inger is charged with the development of new technologies in the fields of artificial intelligence, deep learning, machine learning, data extraction, internet of things, and augmented reality for military use.

According to Cohen Inger, the key to using AI for military and civil purposes is data governance, which requires the secure transfer and storage of huge amounts of information. The Israeli military must recruit and train the next generation of data scientists in order to bring it to the forefront of operational AI technology, she said.