Intel to Expand Operations in Israel as Part of Global Plan
The company, which is the largest multinational operating in Israel in terms of investments and number of employees, expects to start the multi-year process in 2019
Intel has announced Monday a global expansion of its manufacturing capabilities, as part of its shift from a PC-centric company to a data-centric company. The company is now in the early planning stage regarding the expansion of its sites in Israel, Ireland, and Oregon, and expects to start construction in 2019, with the process spanning several years.

For daily updates, subscribe to our newsletter by clicking here.

Intel has not provided financial details about the planned expansion, nor additional information about the scope and nature of the expansion. Final details could depend on incentives given by the Israeli government, as in the case of Intel's already planned $5 billion overhaul of its fab facility in Kiryat Gat, a small town in southern Israel, announced in May.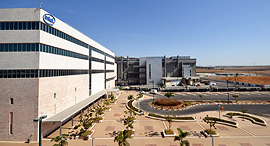 Intel's Kiryat Gat facility. Photo: PR

"In the weeks and months ahead, we will be working through discussions and permitting with local governments and communities," Intel wrote, adding that such processes "are always subject to change based on business, economic and other factors."

The company stated it is now "competing to win in an estimated $300 billion total addressable market for silicon" and thus needs a wider range of offerings. "Intel is not just the CPU inside your personal computer. We are the safety features in your car, the wireless connection in your phone, the intelligence in the cloud and more," the company wrote.

Intel employed around 11,000 people in Israel according to its annual report for 2017. That number includes the 1,000 employees of Mobileye, the Jerusalem-headquartered automotive chipmaker Intel acquired for $15.3 billion last year. Its export from Israel was valued at $3.6 billion, up from $3.3 billion in 2016, and it is the largest multinational in terms of investments in Israel—its total acquisitions and investments amounting to $35 billion. Over the past decade, Intel paid local retailers and service suppliers a total of $10 billion.