Interview
Outbrain Touts Israeli Eurovision Win as Proof of its Content Dissemination Mojo
The company used its algorithms to promote Israeli contestant Netta Barzilai's song "Toy" by exposing millions of Europeans to its music video in the weeks leading up to the popular vote-based international contest
New York-headquartered online content distribution company Outbrain Inc. takes some credit for Israel's Eurovision song contest win earlier this year. Outbrain used its algorithm to promote Israeli contestant Netta Barzilai's song "Toy" by exposing millions of Europeans to its music video in the weeks leading up to the popular vote-based international contest. For two weeks, Outbrain targeted relevant audiences according to interests, also taking into account what users are doing online to assess their availability to watch a longer video at a specific time, David Kostman, co-CEO of Outbrain said in an interview with Calcalist, last week.

For daily updates, subscribe to our newsletter by clicking here.

According to Outbrain's data, the music video reached 13 million users in Europe, 40% of which watched 45 seconds of the clip. 25% watched 90 seconds or more. The video ended up with 58 million views.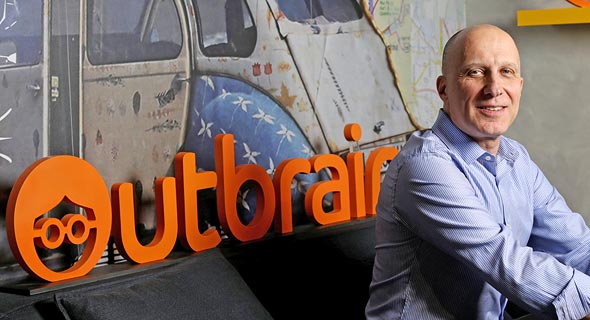 Outbrain's Co-CEO David Kostman. Photo: Amit Sha'al

Barzilai "won in her own right," Kostman said, adding that Outbrain promoted the video "heavily."

Kostman, an Israeli born New Yorker, is also chairman of the board at Nasdaq-listed Israeli software company Nice Ltd., and a board member at web and mobile monetization company IronSource Ltd. Also a co-founder of New York and Berlin-based Mediterranean health-oriented restaurant chain Nanoosh, Kostman joined Outbrain co-founder and CEO Yaron Galai as co-CEO in 2017, after three years on the company's board.

Outbrain is one of two companies hailing from Tel Aviv that dominate targeted sponsored content distribution on media outlet websites, alongside Taboola.com Ltd. Both companies offer a similar service—buying ad spaces on publishers' websites and using them to promote sponsored content from various outlets, targeted to users according to their interests, other content they consume, and the type of online activity they are currently engaged in. The Guardian, Washington Post, and Calcalist are among the publishers that offer Outbrain's curated sponsored content on their websites.

Several merger attempts between the two companies have been reported over the years, most recently in April 2017, all of which have failed to come to fruition. Kostman confirmed the companies explored the option. "The deal made perfect financial sense, but we couldn't find the right formula for it to work for both sides," Kostman said.

Outbrain and Taboola could not agree on a strategy going forward, and on the part to be played by each of the sides in a prospective merged entity, Kostman said.

Outbrain, he added, is growing, generating profit, and looking for further acquisitions.

To date, Outbrain has acquired six companies. In June, it announced it had acquired Tel Aviv-based ad optimization startup AdNgin.

Outbrain is scouting for technologies that will help it reach new publishers and websites, including video ads, according to Kostman.

"We are mostly active on news outlets, but we are constantly exploring alternative platforms," he said.