Tel Aviv's Busy Data Bees Join Global Hivemind
A smart beehive on the roof of a central Tel Aviv shopping mall is part of a global pilot designed to help save the honey bee
A smart beehive on the roof of a central Tel Aviv shopping mall is part of a global pilot designed to help save the honey bee.

For daily updates, subscribe to our newsletter by clicking here.

The hive, fitted with sensors that continuously monitor temperature and moisture levels and record sound in and around the hive, is operated by the World Bee Project, a London-based community interest company dedicated to tracking the state of beehives worldwide. Stationed atop Tel Aviv's Dizengoff Center the solar-powered hive is connected to the web.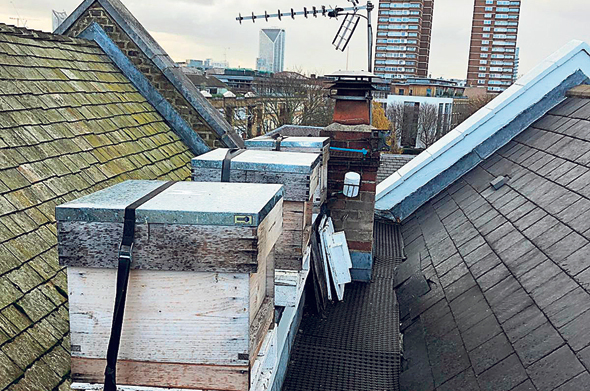 Beehives on a London rooftop. Photo: Asaf Lev

According to data by The World Bee Project, 77% of the global food supply is dependent on bee pollination.

"In the past 50 years, the volume of pollination-dependant agricultural production rose by 300%, but the bee population is plunging," Sabiha Rumani Malik, founder and executive president of the World Bee Project, told Calcalist in a November interview.

Enterprise software company Oracle Corp. is the World Bee Project's technological partner. Data gathered by the project's smart hives is uploaded to Oracle's cloud.

By analyzing bees' buzzing patterns and their habitats, experts hope to learn if they are producing honey, detect when they are threatened by a predator, and predict colony detachment— a phenomenon in which some of the bees suddenly desert the hive.

"When you look at a hive that has undergone detachment, it looks like the bees went out on an errand and never came back. There are no signs of disease or shortage of food, and still, the bees are gone," Asaf Lev, principal consultant at Oracle, told Calcalist in a recent interview. "We are trying to get to the bottom of it," he said.

The project, currently operating as a pilot in the U.K., Ireland, and Israel, is set to eventually join millions of bee hives across the world, creating a vast network. The goal of this ambitious project is to answer the question that has been mystifying scientists around the world for decades: why are the bees disappearing?

"I was born in Pakistan, a part of the world where most people are poor farmers," she said. "I thought, how wonderful it would be if I could transmit knowledge to 570 million small farmers around the world and increase pollination, improving food security."