Israel Refloats Red Sea-Dead Sea Canal Initiative
The planned pipeline, first announced in 2013, was intended to span over 200 kilometers on Jordanian territory
The Israeli government will attempt to bring to vote in January a proposal to move on with the Red Sea–Dead Sea Conveyance project, according to several people familiar with the matter who spoke with Calcalist on condition of anonymity.

For daily updates, subscribe to our newsletter by clicking here.

The principles of the project were signed off on in 2013. Planned to span over 200 kilometers on Jordanian territory, the pipe was intended to bring water from the Red Sea to the dwindling Dead Sea, and a local desalination facility to be built was to provide both countries with water. A 2018 report by Israel's Ministry of Environmental Protection found that the Dead Sea, which is mainly fed by the Jordan River, is receding by 1.2 meters a year. Original plans to build the canal in Israeli territory drew objections from environmental organizations, changing its route to Jordan. A tender for the project was opened in 2015 but since then the project has stopped in its tracks.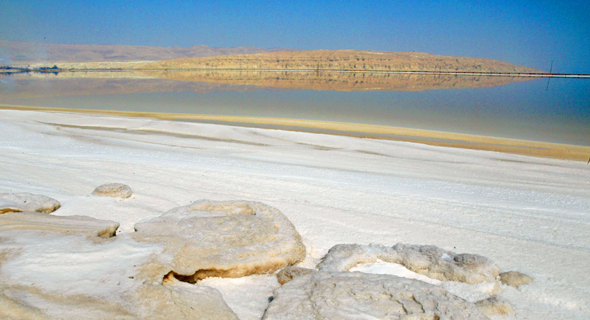 The Dead Sea. Photo: Getty Images

The official financier of the project is the World Bank, and the project's costs are estimated at up to $4 billion. Construction time once all permits are received is estimated at 48 months.

Israel is headed to general elections, scheduled to take place in April, and the Israeli parliament disassembled last week. The intention to push the project through at this time results from Jordanian pressure, the people familiar with the matter said.

The planned desalination facility will supply Israel with around 40 million cubic meters of water a year at around $1 a cubic meter, according to the current proposal—almost twice what Israel is paying for water obtained from its own desalination facilities. Israel will also increase the Jordanian water quota from the Sea of Galilee by 50 million cubic meters to 90 million cubic meters following the project, according to the plan.

In 2016, the Jordan Electric Power Company signed a 15-year contract with an Israeli gas consortium to supply the country with 45 billion cubic meters of gas from the Leviathan offshore gas field. Jordanian company Arab Potash has been receiving natural gas from the Tamar gas field for the past two years. If the canal project is built, it will significantly boost the commercial partnership between Israel and Jordan.