WeTechBerlin Conference to Showcase Israeli Startups, Part Three
Calcalist will host a two-day tech and innovation conference in Berlin on February 18-19. As part of the event, Calcalist is leading a delegation of some 50 Israeli startups
Calcalist will host a two-day tech and innovation conference in Berlin on February 18-19. As part of the event called WeTechBerlin, Calcalist is leading a delegation of some 50 startup companies that will participate in meetings with investors potential clients and business partners.
For registration, and more information click here.
The conference, to be held at the Hilton Berlin, will bring together tech executives and industry leaders from both Israel and Germany.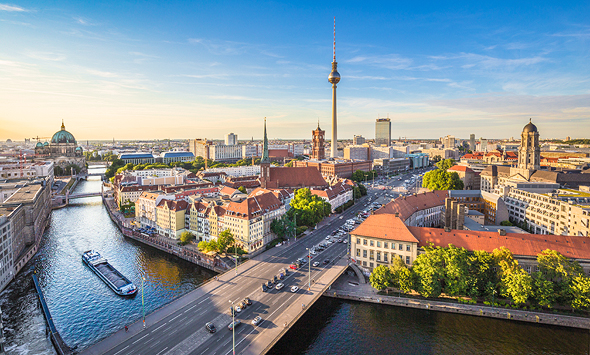 Berlin. Photo: Shutterstock
For more companies participating in WeTechBerlin, click here and here.
Fleetonomy Ltd.
Fleetonomy develops a cloud-based fleet management service for carmakers, car rental companies, and ride-sharing services.
Leaperr AI
Leaperr develops an interior design software that can quickly generate custom-made, realistic interiors using image processing algorithms.
Vicarius Ltd.
The company develops machine learning technologies that analyze cyber attack patterns and use the insights to predict vulnerabilities.
Vesttoo Ltd.
Vesttoo develops a platform marketplace where both insurance and reinsurance companies can trade insurance related securities and connect with investors.
EyeSight Technologies Ltd.
EyeSight's systems utilize computer vision to provide hands-free interaction with smart homes, internet of things (IoT) devices, and automotive systems.
Addionics IL Ltd.
Addionics uses 3D printing technologies to redesign the architecture of batteries to improve performance, safety, cost, and charging time.
Roomer Travel Inc.
Founded in 2013, Roomer develops an online marketplace where people can offer their already booked accommodations at a discount.
Moodify Ltd.
Moodify develops an artificially intelligent system capable of analyzing, predicting, and reacting to human emotions, using data collected from biometric sensors.
Refundit Ltd.
Founded by Waze co-founder Uri Levin and Ziv Tirosh, ReFundit develops an app that helps tourists claim value-added tax (VAT) refunds.
Assured Inc.
Also known as Assured Allies, the company utilizes machine learning algorithms to create personalized care plans and support services for caregivers.