Operative Who Targeted Citizen Lab Researcher Is Linked to Israeli Intelligence Firm, Report Says
This weekend The Associated Press reported that human rights research group Citizen Lab was targeted by undercover operatives. On Monday, Israeli investigative news show "Uvda" identified one of the operatives as a former employee of Israeli surveillance firm Black Cube
An undercover operative who has targeted a member of human rights research group Citizen Lab in recent weeks is Israeli national and retired security official Aharon Almog-Assoulin, Israeli investigative news show Uvda, broadcasted on Israel's Channel 12, reported Monday. Uvda also reported that Almog-Assoulin is a former employee of Israeli surveillance company Black Cube, adding that Black Cube denied any connection to him.

For daily updates, subscribe to our newsletter by clicking here.

Uvda collaborated on the story with The New York Times, which published its own report on Monday.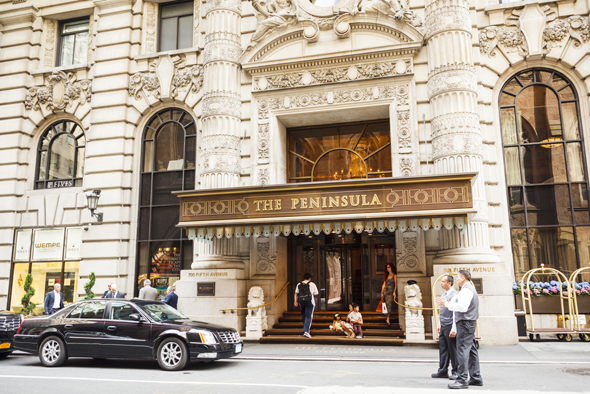 The New York hotel where Aharon Almog-Assoulin met with a Citizen Lab researcher. Photo: Shutterstoc
Over the weekend, The Associated Press reported that undercover operatives had been meeting with researchers of the University of Toronto's Citizen Lab, a digital and human rights research group focused on cyber surveillance. Posing as potential donors, these operatives questioned the researchers at length about the group's investigations concerning Israeli surveillance. The AP reported that the operatives focused specifically on work regarding Israeli cyber surveillance company NSO Group, which Citizen Lab has been digitally tracking for two years.
On Monday, Uvda reported that Almog-Assoulin, while identifying himself as Michel Lambert, a Paris-based investor, has met with senior Citizen Lab researcher John Scott-Railton in New York. During their meeting, Almog-Assoulin questioned Scott-Railton at length about the group's investigations pertaining to NSO Group.
A 2017 New Yorker magazine exposé revealed Black Cube was hired by Hollywood producer Harvey Weinstein to spy on women who accused him of sexual crimes. Founded in 2010, the company touts itself as an investigative service offering the expertise of former Israeli spies to quarreling businesses. Many of Black Cube's 100-plus employees are veterans of Israeli military intelligence units, Mossad, or the Shin Bet.
On Tuesday, following Calcalist's request for comment on the reports by Uvda and the New York Times, a lawyer for Black Cube replied with a letter threatening legal action should Calcalist mention Black Cube in connection with the events reported by the AP, the New York Times, and Uvda. The letter referred to the reports as false.
A spokesman for Black Cube has been approached for comment a second time on Wednesday and has yet to reply.
In a comment to Uvda, Black Cube denied working for NSO Group as well as employing Almog-Assoulin to spy on Scott-Railton.
A spokeswoman for NSO told Calcalist on Tuesday that the company had nothing to do with the incident reported by the AP, Uvda, and the New York Times.