Brief
German Satellite Manufacturer OHB Enters Joint Venture With Israeli Defense Contractor IAI
As part of the deal, OHB and IAI will develop a lunar lander for the European Space Agency
German satellite manufacturer OHB System AG and Israeli government-owned defense contractor Israel Aerospace Industries Ltd. (IAI) announced a joint venture Tuesday. The two companies will team up to offer a commercial lunar surface access service to the European Space Agency (ESA).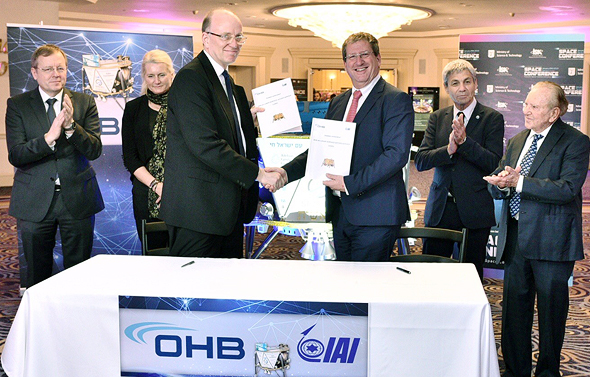 OHB and IAI representatives. Photo: Alex Polo

Under the agreement, OHB will serve as the project's primary contractor, and IAI will provide a version of its lunar lander which was co-developed and built for SpaceIL, the Israeli non-profit organization aiming to land the first Israeli-made unmanned spacecraft on the moon.

Founded in 1953, IAI is Israel's largest aerospace and defense company, developing and manufacturing defense systems including aerial defense, anti-missile, unmanned aerial systems, drone disruption, and marine systems.