Election
Israeli Political Dark Horse Closes In On Netanyahu
Former Israeli military chief of staff Benny Gantz's party is climbing up in the polls ahead of the country's general election in April
Former Israeli general turned politician Benny Gantz is closing in on Israeli leader Benjamin Netanyahu in polls, as the latter is campaigning for a fifth term as the country's prime minister.
For daily updates, subscribe to our newsletter by clicking here.
A survey published Wednesday by Israel's Channel 13 News, gave Gantz's Israel Resilience party 24 of the 120 seats in the Israeli Parliament, trailing Netanyahu's Likud party by a mere six seats.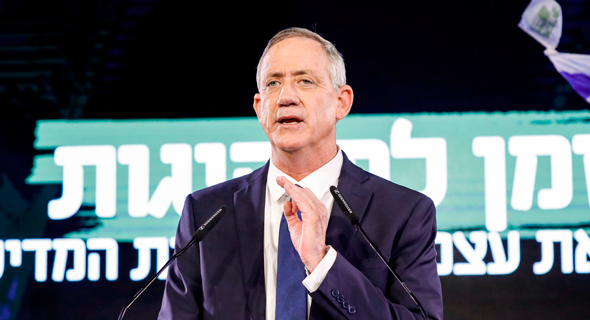 Benny Gantz at his campaign launch event. Photo: AFP
The poll came after Gantz revealed some of his political agenda in a campaign launch event in Tel Aviv Tuesday breaking a month-long silence since he announced his running in December. The former chief of staff of the Israeli military, Gantz also announced he is joining forces with fellow former general Moshe Ya'alon Tuesday—the latter was Israel's minister of defense when Gantz headed Israel's military campaign in the Gaza strip in 2014.
Previous surveys gave Gantz's party no more than 15 seats.
When asked which Israeli politician was most fit to be prime minister, Gantz and Netanyahu were neck-and-neck at 42% each, according to Channel 13 News. A poll conducted by Israel's Channel 12 News showed similar results, with 36% rooting for Netanyahu and 35% favoring Gantz. A similar question in a third poll by Israel's national broadcaster Kan posted Wednesday, gave Netanyahu 47% and Gantz 41%.
Israeli voters cast a single ballot ticket for a political party, not a candidate, and only twice in the country's history was an elected prime minister not the head of the party with the most parliamentary seats.
In his speech Tuesday, 59-year-old Gantz promised to strive for peace, adding that if it turns out peace is unattainable, his party will work to "shape a new reality." The Israeli former general also said he will strengthen the "settlement blocs," from which he said Israel will never retreat.
Before his speech, several short videos publshed by Gantz touted his military achievements, counting among them the killing of "1,364 terrorists" during the 2014 Gaza War, and "sending some parts of Gaza back to the Stone Age."
The videos did not include information about 1,462 Palestinian civilians also killed in the violence, according to U.N. figures.
Addressing some other issues, Gantz said he intends to make public transportation in Israel available on Shabbat, while also maintaining "meticulous observance of the holy character of this holy day."