Teva Signs Deal to Sell Closed Israeli Factory
In December 2017, Teva announced plans to sell or close many of its manufacturing facilities and let 25% of global employees go as part of a debt management plan
Teva Pharmaceutical Industries has signed a deal to sell its land rights in one of its former Israeli factories for NIS 109 million (approximately $30 million) plus value-added tax, according to a Thursday filing by the buyer, Israel-based Hiron Trade Investment and Industrial Buildings Ltd.

In a document submitted to the Tel Aviv Stock Exchange, Hiron stated the location spans 35,420 square meters, 14,366 square meters of which are built. Teva has already received 30% of the agreed-upon sum, and the rest will be paid by January 1, 2020, the day Hiron will take possession of the property. As part of the deal, Hiron will then lease 2,000 square meters to Teva for three years at NIS 130,000 (around $35,700) a month.

In December 2017, Teva announced a reorganization plan intended to cut expenses and ameliorate the company's debt of over $30 billion. As part of the plan, the company announced its intention to cut 25% of its global workforce, including in its home country of Israel, and sell or close a double-digit number of its facilities.

The aforementioned facility Teva Medical, located in Israeli port town Ashdod, manufactured products for medical processes such as dialysis and Intravenous therapy, pain medication like Paracetamol, and anti-cancer medication. It was slated for closure after Teva failed to find a buyer, with Teva stating it will discontinue some of its activities and relocate others.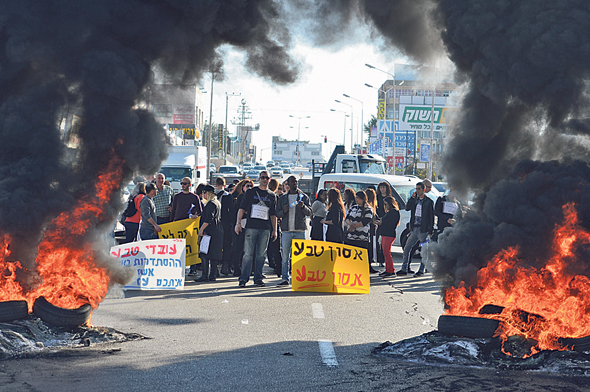 Teva Medical employees protesting layoffs in Ashdod. Photo: Avi Rokach