Israeli Nir Blumberger to Manage Facebook's Investments in EMEA
As part of his role, Blumberger will work out of Facebook's Tel Aviv offices and will be in charge of investments and acquisitions of Israeli startups
Israeli Nir Blumberger will manage Facebook's investments and acquisitions
across Europe, the Middle East and Africa (EMEA), two people familiar with the matters said to Calcalist on condition of anonymity. As part of his role, Blumberger will work out of Facebook's Tel Aviv offices and will be in charge of investments and acquisitions of Israeli startups, these people said.
For daily updates, subscribe to our newsletter by clicking here.
According to his LinkedIn account, Blumberger rejoined Facebook as the head of EMEA corporate development, as of last month.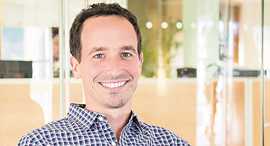 Nir Blumberger
Blumberger is returning to Facebook after a two-year hiatus during which he worked as the only Israel-based venture partner at the venture capital fund Accel Partners. Blumberger has an MBA from Stanford University and studied computer science at The Interdisciplinary Center in Herzliya.
Blumberger worked as a corporate development deal lead at Facebook's headquarters between 2014-2016.