Hospitality Company Selina to Open Multiple Israeli Locations
The chain, which currently offers 10,000 beds worldwide, aims to reach 100,000 by 2022, according to Selina Israel head Yossi Mautner
Hospitality company Selina Ltd. will be opening the first of several Tel Aviv locations in the summer of 2019, according to the head of Selina Israel, Yossi Mautner.

For daily updates, subscribe to our newsletter by clicking here.

Established in 2014 in Panama by Israel-born Rafael Museri and Daniel Rudasevski, Selina currently has 44 locations in central America, South America, and Portugal. The company has raised $95 million to date, according to Pitchbook data, from investors including WeWork's Adam Neumann, and Gigi Levy Weiss, co-founder of social gaming company Playtika and the former CEO of online gambling firm 888 Holdings PLC.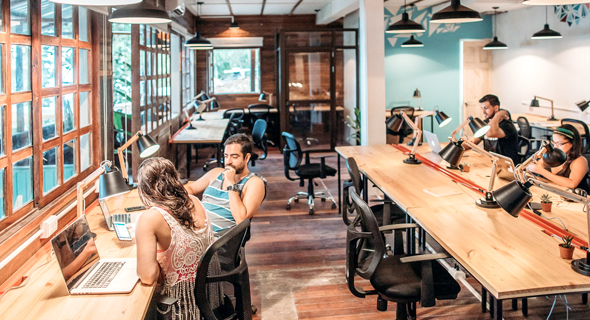 A Selina location. Photo: Agustin Munoz
Each Selina hostel offers a co-working space, a free-to-use kitchen, a library, a movie theatre, a gym, and also local attractions such as curated tours. The chain, which currently offers 10,000 beds worldwide, aims to reach 100,000 by 2022, Mautner said in an interview with Calcalist last week.
In Israel, Selena began operating last year when it signed a deal for three Templar buildings in Tel Aviv, on the edges of the trendy neighborhoods Neve Tzedek and Florentine, Mautner said. The location, which is expected to open later this year, will span 1,500 square meters and offer 145 beds.
The company is finalizing a deal for its second Tel Aviv location, near the Levinsky Market in South Tel Aviv, according to Mautner. The second location will span 3,000 meters and contain 250 beds, and is expected to open in the summer of 2020, he said.
A bed in a shared room in one of Selina's Tel Aviv locations will set visitors back $35, while standard double rooms at start at $200 per night, and suites at $400 per night.
Selina plans to open around 15 locations throughout Israel over the next five years, which will amount to approximately 15,000 beds, Mautner said. The company is currently negotiating a location near the Sea of Galilee and is also looking at locations in Jerusalem, Eilat, and Mitzpe Ramon.