Maritime Transport Company ZIM Backs Shipping Optimization Startup Ladingo
Ladingo develops an algorithm for optimizing the shipping of large items from one country to another in a single container
Israeli maritime cargo transport company ZIM Integrated Shipping Services Ltd. has led a $1 million seed round for shipping optimization startup Ladingo Ltd., the companies announced Wednesday.

For daily updates, subscribe to our newsletter by clicking here.

Founded in 2018 and based in Hod Hasharon, a town in central Israel, Ladingo develops an optimization system for cargo containers that allows maritime shipping companies to combine several international deliveries from one country to another in a single container.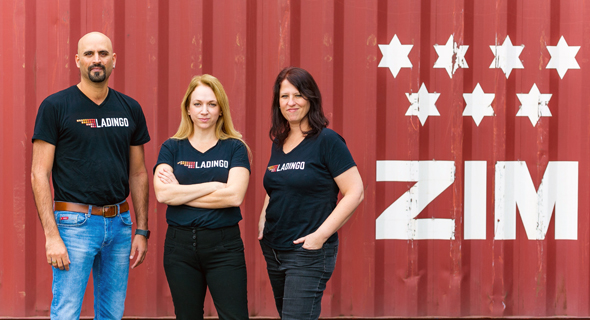 Ladingo co-founders Guy Levy, Hagar Valiano Rips (center), and Ruth Reiner. Photo: PR

Ladingo's algorithm arranges the various items within the container making sure not to place heavy items, such as a washing machine, on top of sensitive items, like sofas or smaller electronics.

More and more of our shopping is done online from overseas but that is mostly true for small items that can be shipped on planes, Hagar Valiano Rips, co-founder and CEO of Ladingo, said in a phone interview with Calcalist Tuesday. "Both retailers and shipping companies invest a lot in logistics, they buy airplanes and set up sophisticated warehouses, but don't put in as much effort when it comes to larger items," she added.