Israeli Prime Minister Benjamin Netanyahu Faces Indictments Pending Hearing
On Thursday, Israel's attorney general Avichai Mandelblit handed Netanyahu's legal counsel the accounts he intends to indict the prime minister with, pending a hearing
Israel's attorney general Avichai Mandelblit has presented Prime Minister Benjamin Netanyahu's legal counsel the accounts he intends to indict the Israeli leader with pending a hearing Thursday.

For daily updates, subscribe to our newsletter by clicking here.

Netanyahu will be charged with bribery and breach of trust in a case concerning favorable coverage of the Israeli leader and his family on Walla, an Israeli news website owned by Israel's largest telecom company Bezeq, possibly in exchange for government regulation that benefited the firm. The Prime Minister will also face indictment for breach of trust in cases in which he allegedly handed out favors to two business executives and discussed potential legislation changes with the publisher of Israeli newspaper Yedioth Ahronoth.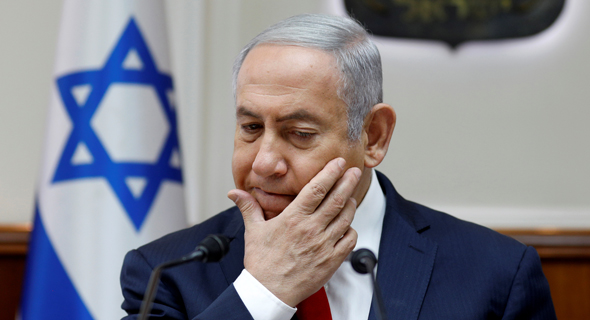 Israeli Prime Minister Benjamin Netanyahu. Photo: Reuters
The announcement comes just 40 days ahead of the country's general election scheduled for April 9. According to a survey conducted earlier this week and published Thursday by Israeli news website Times of Israel, Netanyahu's Likud Party stands to lose four seats in the upcoming election due to the indictment. Currently polling ahead of the Likud, a new centrist party headed by former chief of staff of the Israeli military Benny Gantz stands to gain eight seats, possibly tipping the weights in its favor.