37,600 Kilometers from Earth, Israeli Spacecraft Beresheet Takes a Selfie
After a faltering start, the Israeli spacecraft took a picture Tuesday as it passed above Australia
Israeli spacecraft Beresheet just posted a selfie, 37,600 kilometers away from earth. The 600 kilogram vehicle hitched a ride on the back of a SpaceX rocket in February, but ran into several problems on its first week, first experiencing navigational problems due to sun rays and then canceling a planned maneuver when its computer reset unexpectedly.

Tuesday's selfie, which was taken above Australia, showcases the plaque Beresheet (Genesis in Hebrew) was outfitted with. In addition to the Israeli flag, the plaque bears the caption "Am Yisrael Chai"—the people of Israel live—a rallying cry used to symbolize Jewish perseverance in the face of persecution. Under it, in English, is the text "small country big dreams."

Beresheet will remain in earth's orbit until March 20, when it is planned to reach lunar capture orbit. It is expected to land on the moon on April 11, where it will measure the moon's magnetic fields before succumbing to the sun's heat soon after.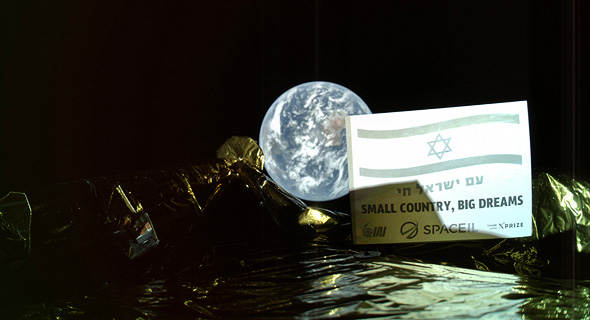 Beresheet's selfie. Photo: Beresheet