Tel Aviv Pilots Sidewalk Traffic Lights for Pedestrians Who Can't Get Their Eyes Off Their Phones
The LED strips embedded in the pavement light up to alert pedestrians caught up in their Candy Crush Saga game to when it is safe to cross
Can't get your eyes off your smartphone? Tel Aviv has got you covered with traffic light strips embedded into sidewalks, so you will never have to look up again.

For daily updates, subscribe to our newsletter by clicking here.

New pedestrian street lights have recently been installed on the pavements of a major intersection of Ibn Gabirol Street, one of the city's busiest traffic routes. The move is part of a pilot program, which the city intends to expand to additional junctions in the future, according to a statement released by the city Wednesday.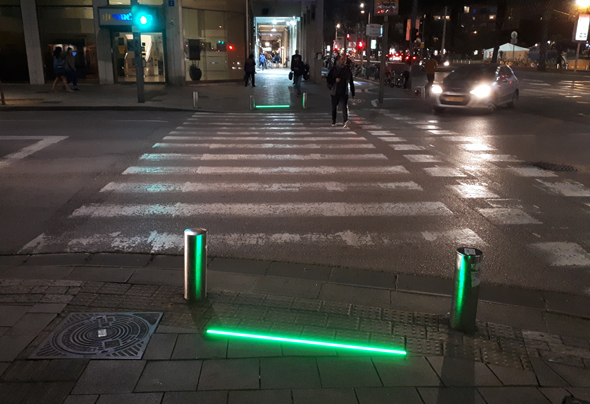 The new pedestrian street lights. Photo: Lilach Baumer

The embedded LED strips light up in green and red in accordance with existing traffic lights to alert pedestrians caught up in their Candy Crush Saga game to when it is safe or unsafe to cross.