Electronics Health Company ProteanTecs Emerges From Stealth With a $35 Million Investment
ProteanTecs develops technology for predicting failures in electronic systems. The company was founded by three co-founders of Israeli chipmaker Mellanox
Electronics' health prediction startup ProteanTecs Ltd. has emerged from stealth Monday to announce the completion of a $35 million series B investment round. Intel Capital, Mitsubishi UFJ Capital Co. Ltd., WRVI Capital, Israeli entrepreneur Avigdor Willenz, ITI Venture Capital Partners, Redline Capital Management SA, and Viola Ventures are among the investors who participated in the round. ProteanTecs has raised $50 million to date, according to company statements.
For daily updates, subscribe to our newsletter by clicking here.
ProteanTecs develops technology for predicting failures in electronic systems. The company was founded in 2017 by Israeli tech industry veterans Shai Cohen, Evelyn Landman, Roni Ashuri, and Raanan Gewirtzman. The company is headquartered in Haifa, with offices in New Jersey and San Francisco.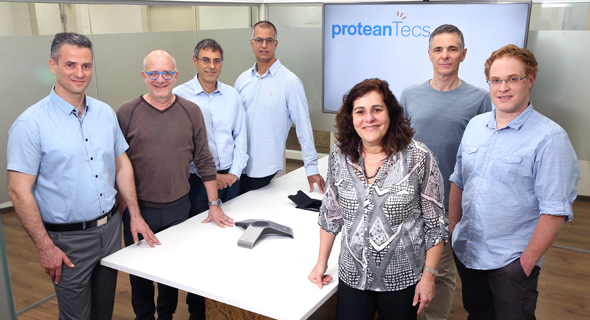 ProteanTecs' team. Photo: Elad Gershgoren

Cohen, Landman, and Ashuri are three of the co-founders of chipmaker Mellanox Technologies Ltd., acquired last month by the Nvidia Corporation for $6.9 billion. The three left Mellanox years before the acquisition. Cohen retired as Mellanox's chief operating officer in 2016.

"I had the pleasure of taking Mellanox from zero to a large company in nearly 17 years. The company becomes like another child," Cohen said in a Monday interview with Calcalist. "When I left, I realized how far the country had come in terms of innovation—things that were difficult to see when I was immersed in Mellanox."

As people become more and more dependent on electronic devices, it becomes unacceptable for them to stop working without notice, Cohen said. ProteanTecs' technology will allow devices to provide information about their health and announce failures before they occur, he explained, adding that the company has set its sights on markets such as enterprise IT and autonomous vehicles.