Cisco Partners With Ehud Barak-Backed 911 Startup Carbyne
Carbyne develops a cloud-based platform that allows dispatchers to receive GPS data, video and audio transmission and use texting services to supplement voice in distress calls
Cisco Systems has partnered with emergency response startup Carbyne Ltd., backed by former Israeli prime minister Ehud Barak, to deliver cloud-based technology for emergency dispatch centers, Carbyne announced Wednesday.

For daily updates, subscribe to our newsletter by clicking here.

As part of the collaboration, Carbyne's emergency services technology will be offered as an integrated part of Cisco's IoT data platform.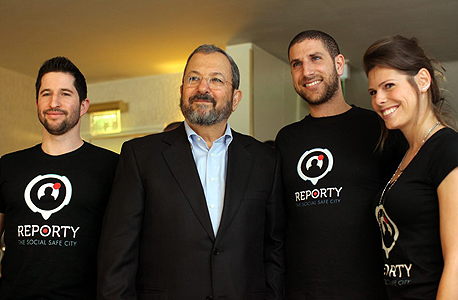 Ehud Barak with the founders of Reporty, which was rebranded as Carbyne. Photo: Amit Sha'al

The financial details of the partnership were not disclosed.

Founded in 2014, Carbyne develops a cloud-based platform that allows dispatchers to receive GPS data, video and audio transmission and to use texting services to supplement voice in distress calls. Carbyne is headquartered in Tel Aviv with additional offices in New York, Mexico, and Ukraine. The company has raised nearly $22 million to date, according to Pitchbook data.