Mind the Tech NY
Retailers Cannot Compete With Amazon When it Comes to Prices, Says Yotpo CEO
Tomer Tagrin, co-founder and CEO of Marketing startup Yotpo spoke Thursday at Calcalist's Mind the Tech conference in New York
Small online retailers cannot compete with Amazon's prices, so they have to offer the customer a different experience that would give them a reason to forgo the comfort of buying on Amazon, said Tomer Tagrin, co-founder and CEO of Marketing startup Yotpo Ltd. Tagrin spoke Thursday at Calcalist's Mind the Tech conference in New York.

For daily updates, subscribe to our newsletter by clicking here.

According to Tagrin, one of the biggest challenges faced by companies today is customer retention, which is becoming harder and more expensive.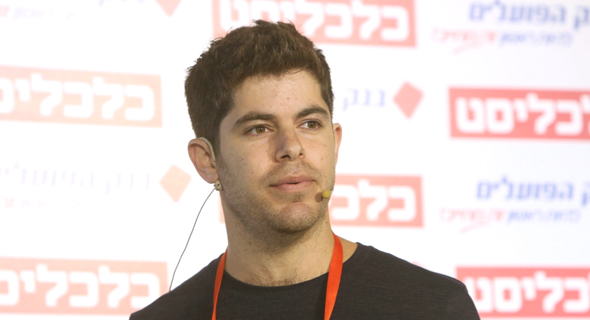 Yotpo co-founder and CEO Tomer Tagrin. Photo: Zvika Tishler

Yotpo's service allows brands and online retailers to manage and respond to different types of user-generated online content related to their products and services, including product reviews. The service also allows brands to manage consumer incentives programs.

Amazon takes care of buying and selling very well, but has killed the shopping experience, Tagrin said, and Yotpo is trying to help brands rebuild it through the verticalization of products, expansion to offline stores to complement the online buying experience, and the use of data science to analyze the market.