Rival for Bezeq Acquisition Threatens Searchlight With Defamation Lawsuit
Both private equity firm Searchlight and Israeli businessman Gad Zeevi are bidding for Israel's largest telecom company Bezeq
Israeli businessman Gad Zeevi is threatening a defamation lawsuit against private equity firm Searchlight Capital Partners, his rival in the bid for Israel's largest telecommunication company, Bezeq.

For daily updates, subscribe to our newsletter by clicking here.

Bezeq is controlled by Israel-based communication company Internet Gold Golden Lines Ltd. via its stake in Bezeq's direct controlling shareholder B Communications (BCOM) Ltd. Both Internet Gold and BCOM are in heavy debt to bondholders, meaning bondholders play a key part in all offers for Bezeq.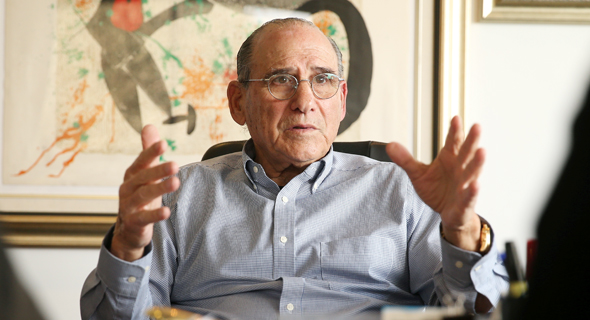 Gad Zeevi. Photo: Elad Gershgoren

In a meeting with Internet Gold and BCOM's bondholders held last week, Searchlight's representatives stated they have previously considered adding Zeevi as their Israeli partner for Bezeq's acquisition, but were told by the Israeli Ministry of Communication that Zeevi had "no chance" of receiving a permit of control. As Bezeq is considered a landline monopoly in Israel, Searchlight needs an Israeli partner to hold at least a 10% stake.

On Saturday, Zeevi sent Searchlight a letter via his legal representation Amir Bartov and Ayana Wechsler, stating that in the past few days they have received "well-established reports" that the firm is attempting to create the impression that Zeevi will not be able to receive a permit of control for Bezeq. According to the letter, which was reviewed by Calcalist, Searchlight further said that Zeevi approached it a few months ago offering to serve as its Israel partner in the bid, but Searchlight was told by the ministry of communication that he "will never" receive a permit.

Searchlight is well aware that Zeevi has never been in touch with Searchlight or its representatives, the letter said.

According to the letter, Searchlight allegedly told the bondholders that they shouldn't count on Zeevi's offer, and that Searchlight is the only "player on the field."

Zeevi is therefore demanding, under threat of a defamation lawsuit, that searchlight publish within 48 hours a declaration saying that he had never approached it in an attempt to collaborate on the Bezeq bid and that the ministry of communication has not told the firm that Zeevi will be unable to receive a permit of control for Bezeq. Zeevi is also demanding that Searchlight either deny making the allegations against Zeevi or issue a public apology.