Ultrasound-for-Eggs Startup Wants to Save the Poultry Business From Its Own Bad Practices
Eggxyt's technology can detect the gender of a chick embryo before incubation, which the company says can reduce the waste of some 7 billion male chicks each year
Ultrasound for eggs startup Eggxyt wants to save the poultry business from its own bad—and extremely wasteful—practices. By determining the gender of chicken embryos before hatching, Eggxyt aims to help chicken farmers avoid the wide-spread but ugly practice of disposing of male chicks shortly after they hatch.

For daily updates, subscribe to our newsletter by clicking here.

Modern chicken farming differentiates between breeds optimized for meat and breeds optimized for laying eggs. The males of laying breeds have little use, and so most are killed immediately after sorting. According to Eggxyt, the global poultry industry today needs about 7 billion egg-laying chickens each year, which means some 14 billion chicks are hatched, only to have all the male chicks immediately destroyed.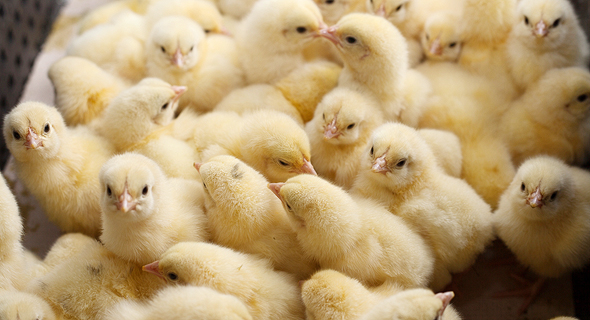 Baby chicks. Photo: Shutterstock

"It is immoral, as well as an unnecessary waste of resources," Yehuda Elram, Eggxyt CEO and co-founder, said in a recent interview. Early gender detection can eliminate this practice altogether, he said.

"The information is there as soon as the egg is laid because already there are 100,000 embryonic cells," Elram Explained. Eggxyt uses CRISPER gene-editing technology to change the DNA of chickens so that male chromosomes produce fluorescent cells. In the second stage, Eggxyt uses a machine that sends rays of light to detect any fluorescent markers in the eggs. Eggxyt's machine can scan multiple eggs at a time, automatically removing all the fluorescent male eggs.

According to Elram, the savings to the poultry industry are numerous: male eggs are removed before incubation, freeing incubators to concentrate on desirable female eggs only. And, by eliminating the sorting process, which is performed manually, egg farmers can save on working hours. But, according to Elram, this is only the beginning. "We want to see these eggs sold to industries that use eggs as raw materials, such as cosmetics, pharmaceuticals, and leather processing," he said. Once relevant approvals are granted, these unincubated eggs could be entered into the food industry.

Eggxyt's technology is set to reach commercialization in 2022, Elram said.