Amazon to Officially Enter Israeli Market
In an email sent Monday night, Amazon invited Israeli merchants active on its platform "to register to reach customers in Israel," Israeli news website Ynet reported Tuesday
Amazon intends to officially enter the Israeli market with a dedicated shopping website. In an email sent Monday night, Amazon invited Israeli merchants already active on its platform "to register to reach customers in Israel," Israeli news website Ynet first reported Tuesday.

For daily updates, subscribe to our newsletter by clicking here.

According to the email, as a first step, Amazon intends to operate in Israel in a fulfillment by merchant (FBM) basis, which means sellers will operate on a dedicated Amazon website but will be personally responsible for shipping and logistics, the report said.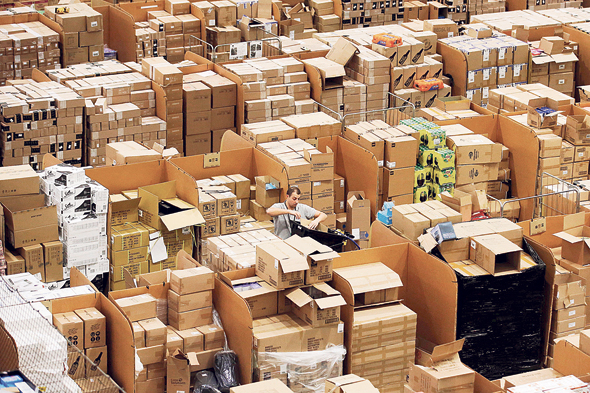 An Amazon warehouse in the U.K. Photo: Bloomberg

In the Hebrew-language email, Amazon said registered merchants will have better chances of being featured by Amazon to reach a broader audience of local customers.

Amazon has yet to respond to Calcalist's requests for comment.

Amazon currently makes deliveries to Israel through the Israeli postal system, mainly from the U.S. and Europe, causing long delays and high shipping costs, which may deter Israeli customers from placing orders with the company. In June 2018, Calcalist reported that Amazon is in talks with Katz Deliveries, a local delivery company, regarding the possibility of making its local deliveries through Katz' B2C subsidiary Buzzr. Calcalist first reported Amazon's intention to enter Israel In November 2017.