Investors Sue to Block Mellanox-Nvidia Deal, Report Says
Nvidia announced a deal to buy the Israeli chipmaker for $6.9 billion in March
A shareholder of Israeli chipmaker Mellanox Technologies Ltd. has launched a proposed class action suit against the company's acquisition by Nvidia Corp., according to a Wednesday report by American legal news service Law360.

Nvidia announced a deal to buy Mellanox for $6.9 billion in March, narrowly beating Intel Corp. in a race that spanned eight months and seven competitors in total. The transaction is expected to be completed later in the year.

On Wednesday, Law360 reported that the suit, filed earlier that day in a California federal court, alleges that Mellanox violated federal laws by not providing the U.S. Securities and Exchange Commission with enough information about Nvidia's bid. The lawsuit also criticized the analysis provided to shareholders on the deal by JP Morgan, which advised Mellanox in the process alongside Credit Suisse.

Mellanox declined Calcalist's request for comment.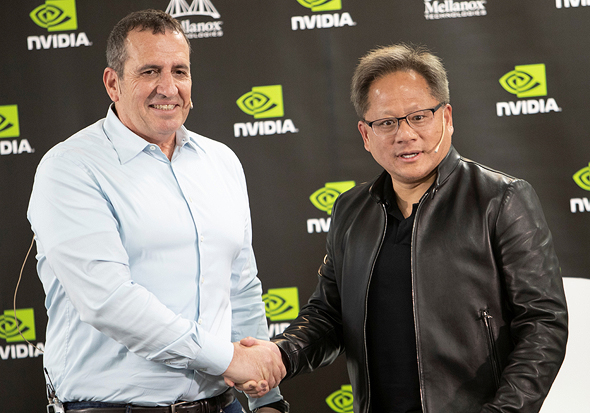 Mellanox CEO Eyal Waldman (left), Nvidia CEO Jensen Huang. Photo: Gil Nehushtan