Salesforce Buys Conversational AI Startup Bonobo
Bonobo's technology integrates directly with various sources of customer interaction data, such as voice, chat, video, and email, running AI algorithms to analyze the data
Software company Salesforce.com Inc. is acquiring Tel Aviv-based conversational AI startup Bonobo, incorporated as Bonobot Technologies Ltd., the company announced Thursday. The company did not disclose the financial terms of the deal, but one person familiar with the matter who spoke to Calcalist on condition of anonymity put it at $50 million.

For daily updates, subscribe to our newsletter by clicking here.

Founded in 2017 by Barak Goldstein, Efrat Rapoport, Idan Tsitiat, and Ohad Hen, Bonobo develops conversational AI technology designed to extract insights from online customer interactions. The company's technology integrates directly with various sources of customer interaction data, such as voice, chat, video, and email, running AI algorithms to analyze the data. Bonobo raised $4.5 million to date from investors including Capri Ventures and G20 Ventures.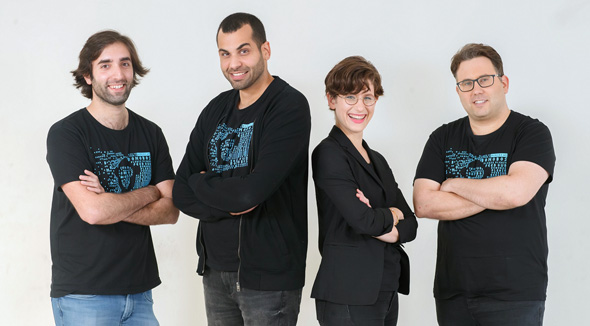 Bonobo's founders Ohad Hen (left), Idan Tsitiat, Efrat Rapoport, Barak Goldstein. Photo: Nitzan Gur

The acquisition was led by Elad Donsky, Salesforce's vice president of engineering and head of Israel research and development, who joined the company in 2012 when his startup Implisit Insights Ltd. was acquired. He is currently heading Salesforce's Einstein Forecasting, an AI-based prediction building tool whose team Bonobo's 20 employees will join following the acquisition.

Salesforce's local research and development has around 500 employees, boosted by the 400 people it gained following its 2018 acquisition of Israel-based marketing analytics company Datorama Ltd., valued at over $800 million.

The acquisition process was a few weeks long, Donsky told Calcalist in an interview, and came about due to Salesforce's interest in managing and analyzing the interaction of customers with clients across all channels, including audio.

Bonobo was well-established in terms of customers, but an opportunity for an investment turned into an opportunity for being acquired, Goldstein told Calcalist. All four founders intend to continue with the company following the acquisition.