Calcalist's Top 50 Startups 2019: #18-#25
Optimizing client communication, choosing your own adventure, and making public transportation more efficient
Every year on Israel's Independence Day Calcalist releases a ranking of the country's top 50 most promising startups. To assemble this list, Calcalist approached many of the country's most prominent investors, advisors, and entrepreneurs. We asked them which are the fastest-growing companies and which are the most profitable. We asked which companies enjoyed the biggest momentum in the past year, and which had the highest chance of making a meaningful business step in the coming year. The final list was assembled based on an analysis of this survey and on the insights of Calcalist's tech writers and editors, who have a deep knowledge of the inner workings of Israel's tech ecosystem.

See Calcalist's top 50 startups project here.

Below are the companies ranked 18-125 on Calcalist's list.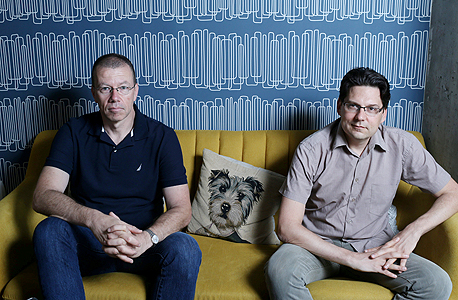 Gong's co-founders Amit Bendov and Eilon Reshef. Photo: Amit Sha'al

#18 Gong I.O Ltd.

Founders: Amit Bendov and Eilon Reshef

Year founded: 2015

Number of employees: 150

Funding: $68 million

Israel-based conversation analytics startup Gong has raised $68 million to date. Based in Herzliya, a town in the Tel Aviv area, Gong's technology provides sales representatives with real-time insights into their interactions with customers by analyzing recorded phone calls to track keywords and topics within a conversation. In December, Gong won Calcalist's and Microsoft's second annual artificial intelligence and big data startup competition. The award included a visit to Microsoft's Seattle headquarters. Founded in 2015, the company employs 150 people in both Israel and the U.S.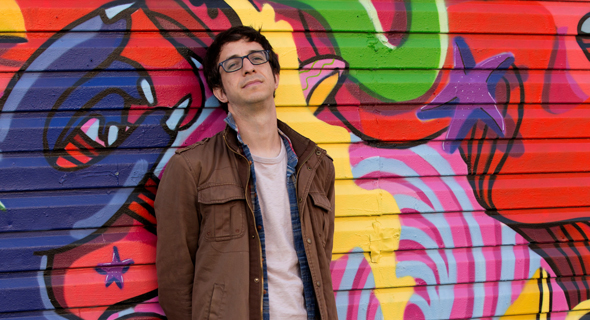 Eko founder Yoni Bloch. Photo: Nadav Neuhaus

#19 EKO

Founders: Barak Feldman, Tal Zubalsky, Yoni Bloch

Year founded: 2016

Number of employees: 70

Funding: $68 million

Interactive multimedia video creation and distribution company Eko, registered as Interlude US Inc., was founded in 2009 by Israeli musician Yoni Bloch, Barak Feldman, and Tal Zubalsky. The company developed an interactive storytelling platform that enables brands, producers, and studios to create original interactive series. Customers include Coca-Cola, Samsung, IKEA, Shell, and Red Bull. The company collaborated with Coldplay on their "Ink" music video, and created a widely acclaimed music video for Bob Dylan's "Like a Rolling Stone." The company has raised $60 million to date and employs 70 people in Tel Aviv and New York.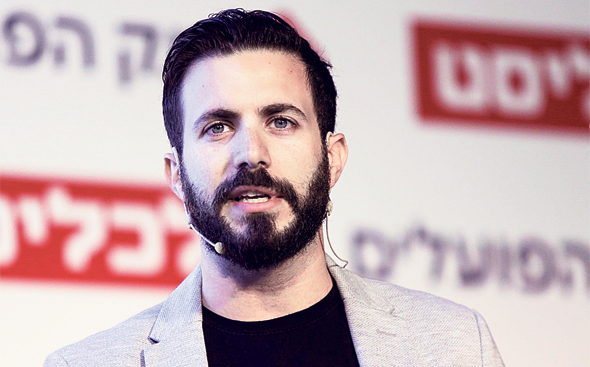 Guesty co-founder Amiad Soto. Photo: Amit Sha'al
#20 Guesty Inc.
Founders: Amiad Soto, Kobi Soto
Year founded: 2013
Number of employees: 230
Funding: $60 million
Founded in 2013 as SuperHost, BookHost Inc., Guesty offers an online service that lets hosts manage vacation rental listings on multiple platforms—such as Airbnb, Booking.com, and Agoda—offering a unified inbox, payment processing options, and website creation tools. The company has raised $60 million to date, and has 230 employees.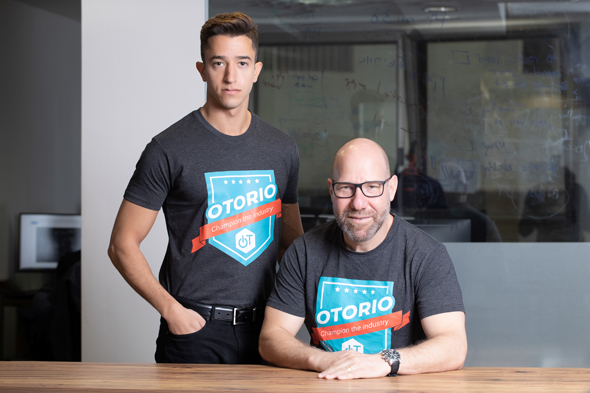 Otorio's co-founders Daniel Bren and Yair Attar. Photo: Ofir Abe

Founders: Daniel Bren, Yair Attar

Year founded: 2018

Number of employees: 50

Funding: $50 million

Cybersecurity company Otorio develops a dedicated cyber platform for the manufacturing industry. In practice, it manages a factory's defense system from end to end, including risk assessment, strategy implementation and risk management tools. The company was co-founded by Brig. Gen. (res.) Daniel Bren. Less than a year since its establishment in 2018, the company has raised some $50 million and recruited 50 employees working out of offices in Tel Aviv and Vienna.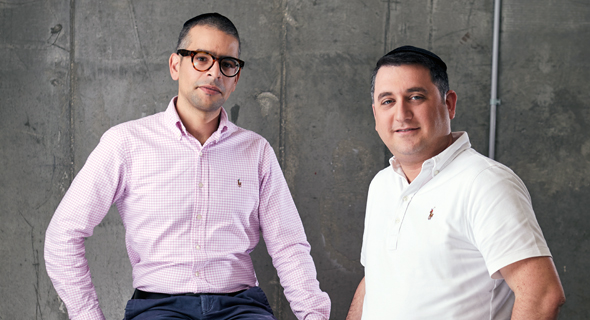 Elementor co-founders Yoni Luksenberg and Ariel Klikstein. Photo: Ofir Abe
#22 Elementor Ltd.
Founders: Yoni Luksenberg, Ariel Klikstein
Year founded: 2016
Number of employees: 80
Funding: Undisclosed
Elementor develops a freemium website building software offered in a premium model, currently being used by more than 1 million users. Founded in 2016, Elementor has 80 employees and more than 100,000 paying customers.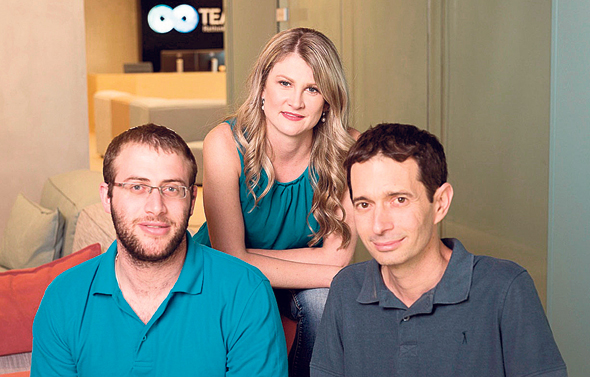 Claroty founders Galina Antova, Amir Zilberstein, and Benny Porat . Photo: PR

#23 Claroty Ltd.

Founders: Amir Zilberstein, Benny Porat, Galina Antova

Year founded: 2014

Number of employees: Undisclosed

Funding: $93 million

Cybersecurity company Claroty develops and markets a cybersecurity platform for industrial networks. Headquartered in New York, the company also has an office in Tel Aviv. Claroty 's investors include Singapore's governmental holding company Temasek Holdings, Rockwell Automation, Bessemer Venture Partners, and Team8. Founded in 2014, Claroty now employs 125 people and has raised $93 million to date.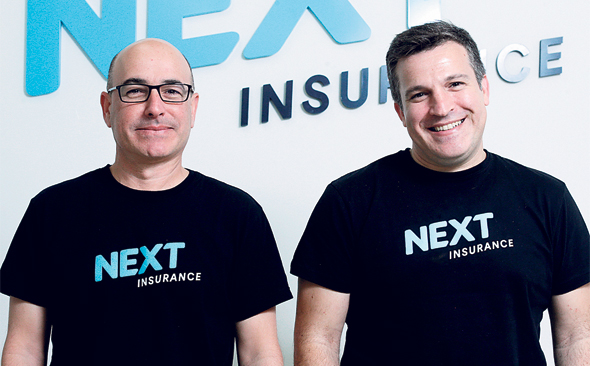 Next Insurance founders Nissim Tapiro and Alon Huri. Photo: Amit Sha'al

#24 Next Insurance Inc.

Founders: Guy Goldstein, Nissim Tapiro, and Alon Huri

Year founded: 2016

Number of employees: 70

Funding: $131 million

Next Insurance develops an online service where small business owners can purchase insurance, in a process that only takes up to several minutes. The insurance policies sold by the company are customized for the specific needs of each business, and the company offers unique policies for private kindergartens, personal trainers, home renovators, and other professional service providers. The company employs 75 people in its Silicon Valley headquarters and in its research and development center in Kfar Saba, a town north-east of Tel Aviv. Next Insurance has raised $131 million from investors, including American Express Ventures, Israeli Venture Firm TLV Partners, and Nationwide Mutual Insurance.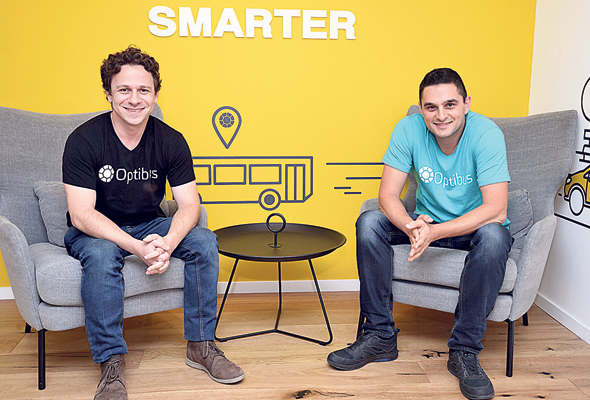 Optibus founders Amos Haggiag and Eitan Yanovsky. Photo: Tamar Matzpi
#25 Optibus Ltd.
Founders: Amos Haggiag Eitan Yanovsky
Year founded: 2014
Number of employees: 75
Funding: $45 million
Founded in 2014 in Tel Aviv, Optibus develops fleet management and optimization software that supplies public transit operators with recommendations based on real-time data. The company offers its services in more than 200 cities worldwide. The company employs a team of 75 people in offices in Israel, the U.S., the U.K., and Germany and has raised $45 million to date, from investors including Chinese e-commerce giant Alibaba Group.