Top Startups
Calcalist's Top 50 Startups 2019: Beyond the Billion
Five fascinating companies that lived up to their promise, became unicorns, and earned their way out of the ranking
For the second time in Calcalist's history, the annual ranking of Israel's 50 most promising startups does not include unicorns—companies with a valuation of over $1 billion. Unicorns, a phenomenon of the last decade, are an indicator of the changes the private market has undergone, but what was an exciting event in 2013 has now become almost commonplace.

See Calcalist's top 50 startups project here.

Not only are more and more companies joining the once exclusive club, some have left that first billion far behind. Uber is hovering around the $70 billion for its upcoming public offering; WeWork is aspiring to $50 billion; and Airbnb is setting its target at $30 billion.

The Israeli companies on this list are still far from such valuations. Another point to remember is that while in the past high valuations meant a company was most likely gearing up for an IPO, today companies are staying private much longer. Therefore, we have decided to make a separate list for companies that have moved beyond the promise, letting other companies shine on the main list this year.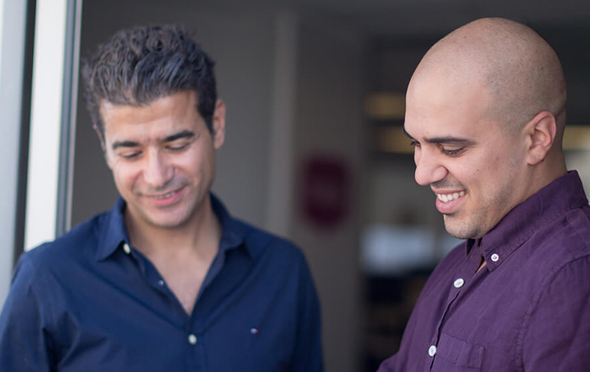 WalkMe co-founders Rephael Sweary (left) and Dan Adika. Photo: PR

WalkMe Inc. | An IPO is on the horizon

WalkMe nabbed its unicorn badge in August 2018, when it raised $40 million according to a $1 billion company valuation. The company raised $200 million to date from investors including venture capital firm Insight Venture Partners, Mangrove Capital Partners, Greenspring Associates, Flint Capital, Gemini, and Giza Venture Capital.

Founded in 2011 by CEO Dan Adika, president Rephael Sweary, and Eyal Cohen who has since left, WalkMe adds a layer of on-screen navigation guidance prompts on top of existing websites, helping users navigate through web pages. The company employs 730 people.

WalkMe's shareholders have plenty of reasons to be happy. Within five and a half years the company went from an annual turnover of $1 million to $100 million, a speedy growth for a SaaS company. Over the past year, the company set up sales and marketing teams in Japan, Singapore, London, and France. Its global takeover is the result of its fast growth. The company's revenue turnover puts it in a comfortable position for a Nasdaq IPO, though the company is not considering going public at the moment.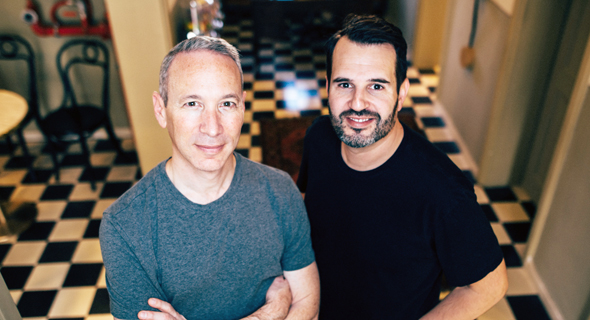 Lemonade co-founders Shai Wininger and Daniel Schreiber (right). Photo: Ben Kelmer

Lemonade Inc. | The insuretech company that is seeing accelerated growth

The newest member of the Israeli unicorn club is online insurance company Lemonade, which in April announced a $300 million round according to a company valuation of over $1.5 billion. Its most recent round made it not only a unicorn but also one of the most highly valued Israeli private companies. To date, the company has raised $480 million over four rounds. Its leading shareholder is SoftBank, followed by Google Ventures, venture capital firm General Catalyst, Thrive Capital, Sequoia Capital, venture capital firm Aleph, Allianz, and OurCrowd.

Lemonade was founded in 2015 by Shai Wininger and Daniel Schreiber and currently employs 170 people, 60 of them in Israel. The company offers customizable property and casualty insurance policies in the U.S. The company intends to leverage its latest funding to do what SoftBank portfolio companies do best: storm the market, especially the European market.

In its annual report for 2018, Lemonade reported sales of $57 million, a big jump from the $10.1 million it reported in 2017. Today, Lemonade insures 425,000 homes in the U.S., up from 100,000, at a total policy valuation of $50 billion.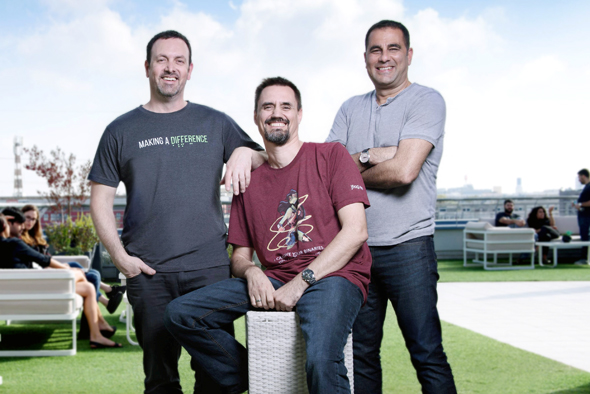 JFrog founders Yoav Landman (left), Frederic Simon, and Shlomi Ben Haim. Photo: Shachar Maor

JFrog Ltd. | Aiming for annual revenues of $1 billion

Like many of Israel's mature tech companies, JFrog is not a household name. Founded in 2008, the company is considered a global leader in the software updates market, at least in part responsible for users no longer needing to manually update their devices. Its clients include 70% of the Fortune 500 list, among them Google, Netflix, Mercedes-Benz, and Uber.

JFrog achieved its unicorn status following a $165 million round raised in October 2018 according to a $1.4 billion valuation. While the company declines to reveal its revenues, it has previously stated it is aiming to reach an annual turnover of $1 billion by 2025—a rare achievement in the Israeli market.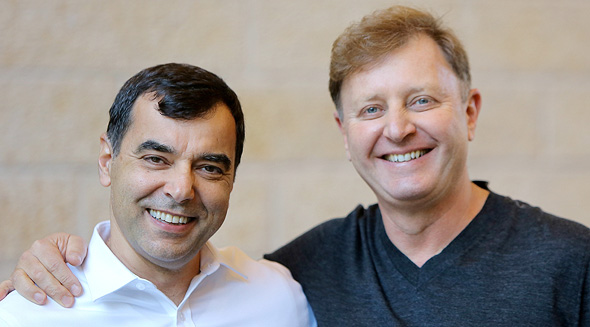 OrCam founders Amnon Shashua (left) and Ziv Aviram. Photo: PR

OrCam Technologies Ltd. | Looking for ways to reach a larger audience

Founded in 2010, OrCam is better known as the "new company" set up by Mobileye founders Amnon Shashua and Ziv Aviram. But it has long surpassed its status as the little sister: the company raised $130 million to date. Its latest $30 million round was announced in February 2018 according to a company valuation of over $1 billion.

OrCam develops and manufactures visual aid devices, its lead product being a wearable personal assistant that clips onto glasses and can then read out loud text such as street names, newspapers, the labels on products, and menus in restaurants.

In December 2018, OrCam announced a Kickstarter campaign to leverage the same technology for a new product called MyMe, to be used for social networking via the identification and naming of people encountered in real life. The company stated at the time its intention was not to raise funding but rather to create a user community, but nearly 18 months later the product does not seem to have made its mark: less than 900 people committed to the Kickstarter campaign, and the company will possibly find it necessary to revert back to its old strategy of targeting people with disabilities and not the general public.

While OrCam already has products on the market, its status is also evidence of the trust the market places in two well-established founders.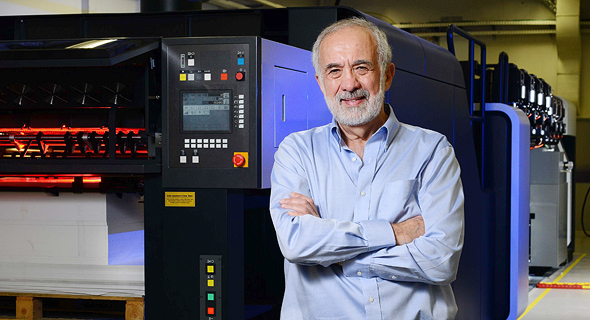 Benny Landa. Photo: PR

Landa Digital Printing | Benny Landa does it again (and again, and again)

Israeli tech entrepreneur Benny Landa is a global digital printing pioneer, one who proved over and over that he knows how to found large companies and also how to sell them in time. In 2001 he sold Indigo to HP Inc. for $630 million in stock.

In 2002, Landa founded Landa Digital Printing, a company developing industrial digital printing technologies for the commercial, packaging, and publishing markets. In 2018 the company raised $300 million according to a company valuation of $1.8 billion post-round, bringing its total equity raised to $700 million. Landa has remained the main shareholder with a 54% stake, while investment company SKion GmbH and chemicals company Altana AG hold a 46% together, most of it under Altana.