MusicTech
This Startup Utilizes Artificial Intelligence to Get Your Song to Lady Gaga
Matan Kollnescher, MyPart's co-founder, spoke Monday at Calcalist's conference on music and technology
Tel Aviv-based startup MyPart Inc. can potentially get your song heard by American producers or even popular singers, said MyPart co-founder Matan Kollnescher at Calcalist's When Technology Meets Music conference, held in Tel Aviv Monday.

For daily updates, subscribe to our newsletter by clicking here.

MyPart develops an artificial intelligence-based service that sifts through thousands of data points in a given song, such as chords, lyrical topics, and cultural elements, sorting through songs in a pace that due to sheer volume would otherwise be impossible to achieve. The company's service prioritizes the songs by relevance according to what an artist or a record label is looking for. The startup then lets artists offer their original songs, lyrics, music, translations, and visual art to musicians of their choice.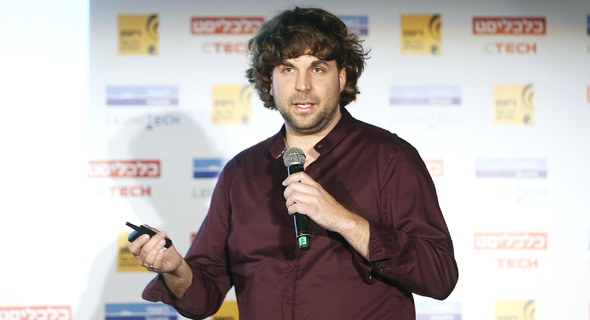 Matan Kollnescher. Photo: Orel Cohen

According to Kollnescher, the company's service can predict the likelihood that a given song can match a songwriter to musicians or products in the industry, and can thus enable songwriters to connect with others in the music industry on a global scale.

The company's platform also acts as a crowdsourcing medium for video, graphics, and lyrics, allowing visual artists to privately offer and produce content to be used by famous artists.

The company's next steps are to provide artists with feedback about how to fit the requirements of their desired artists better, Kollnescher said.

Founded in 2016, MyPart has raised $1.3 million to date, according to Kollnescher.