Tel Aviv Asks E-Scooter Companies to Scoot Over
Officials are "tired of scooters being thrown around and disturbing the sidewalks," according to a letter sent to e-scooter and bike sharing operators
In Tel Aviv, the electric scooter is fast becoming the new transportation mode of choice, and officials are not happy. In recent weeks, Tel Aviv has sent letters to e-scooter and bike sharing operators in the city, outlining guidelines that will regulate the activities of these companies throughout its streets.

For daily updates, subscribe to our newsletter by clicking here.

The announcement was sent because officials are "tired of scooters being thrown around and disturbing the sidewalks," the letter read. The city recognizes the importance of e-scooters and bikes, it said, but there has been a growing number of complaints about vehicles blocking sidewalks and pedestrian walkways. Companies will need to ensure their vehicles will not block bus stops or crosswalks, and that no more than three vehicles are left together, except for outside train stations and stadiums, the letter said.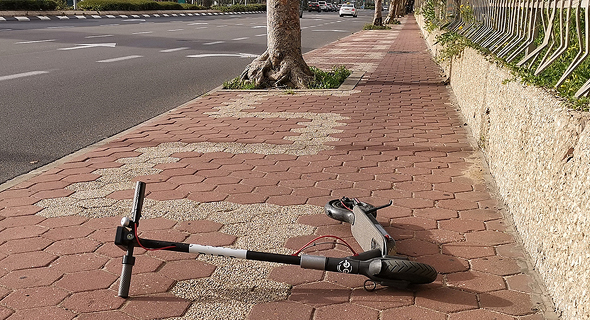 Electric scooter in Tel Aviv. Photo: Nitsan Saddan

Micro-mobility operates in Tel Aviv include bike-sharing company Mobike, and e-scooter operators Los Angeles-headquartered Bird, Berlin-based Wind, Lime (incorporated as Neutron Holdings Inc.), and Israel-based Leo. Ofo was available for a few short months in 2018 but shut its local operation as part of a global pullout.

In the event that companies fail to comply with the outlined rules, the city reserves the right to take legal measures against operators, including confiscating their vehicles without warning and charging the companies according to the expenses involved, the letter said.